The men and women are using different types of tennis balls at the US Open – which has displeased some of the women. CC-licensed photo by Brandon LokeBrandon Loke on Flickr.
You can sign up to receive each day's Start Up post by email. You'll need to click a confirmation link, so no spam.
A selection of 9 links for you. Fuzzier and fuzzier. I'm @charlesarthur on Twitter. Observations and links welcome.
---
Matthew Gault:
»

A man came in first at the Colorado State Fair's fine art competition using an AI generated artwork on Monday. "I won first place," a user going by Sincarnate said in a Discord post above photos of the AI-generated canvases hanging at the fair.

Sincarnate's name is Jason Allen, who is president of Colorado-based tabletop gaming company Incarnate Games. According to the state fair's website, he won in the digital art category with a work called "Théâtre D'opéra Spatial." The image, which Allen printed on canvas for submission, is gorgeous. It depicts a strange scene that looks like it could be from a space opera, and it looks like a masterfully done painting. Classical figures in a Baroque hall stair through a circular viewport into a sun-drenched and radiant landscape.

But Allen did not paint "Théâtre D'opéra Spatial," AI software called Midjourney did. It used his prompts, but Allen did not wield a digital brush. This distinction has caused controversy on Twitter where working artists and enthusiasts accused Allen of hastening the death of creative jobs.

…"We're watching the death of artistry unfold before our eyes," a Twitter user going by OmniMorpho said in a reply that gained over 2,000 likes. "If creative jobs aren't safe from machines, then even high-skilled jobs are in danger of becoming obsolete. What will we have then?"

…According to Allen, his input was instrumental to the shaping of the award winning painting. "I have been exploring a special prompt that I will be publishing at a later date, I have created 100s of images using it, and after many weeks of fine tuning and curating my gens, I chose my top 3 and had them printed on canvas after unshackling with Gigapixel AI," he wrote in a post before the winners were announced.

«
Things are moving faster and faster. In future state fairs, how will the judges know? Will they ask? If someone lies to win, have they won? Will there be separate categories? So many questions.
unique link to this extract
---
»

Today we're introducing Outpainting, a new feature which helps users extend their creativity by continuing an image beyond its original borders — adding visual elements in the same style, or taking a story in new directions — simply by using a natural language description.

DALL·E's Edit feature already enables changes within a generated or uploaded image — a capability known as Inpainting. Now, with Outpainting, users can extend the original image, creating large-scale images in any aspect ratio. Outpainting takes into account the image's existing visual elements — including shadows, reflections, and textures — to maintain the context of the original image.

«
Here's what that can look like. Itchy yet?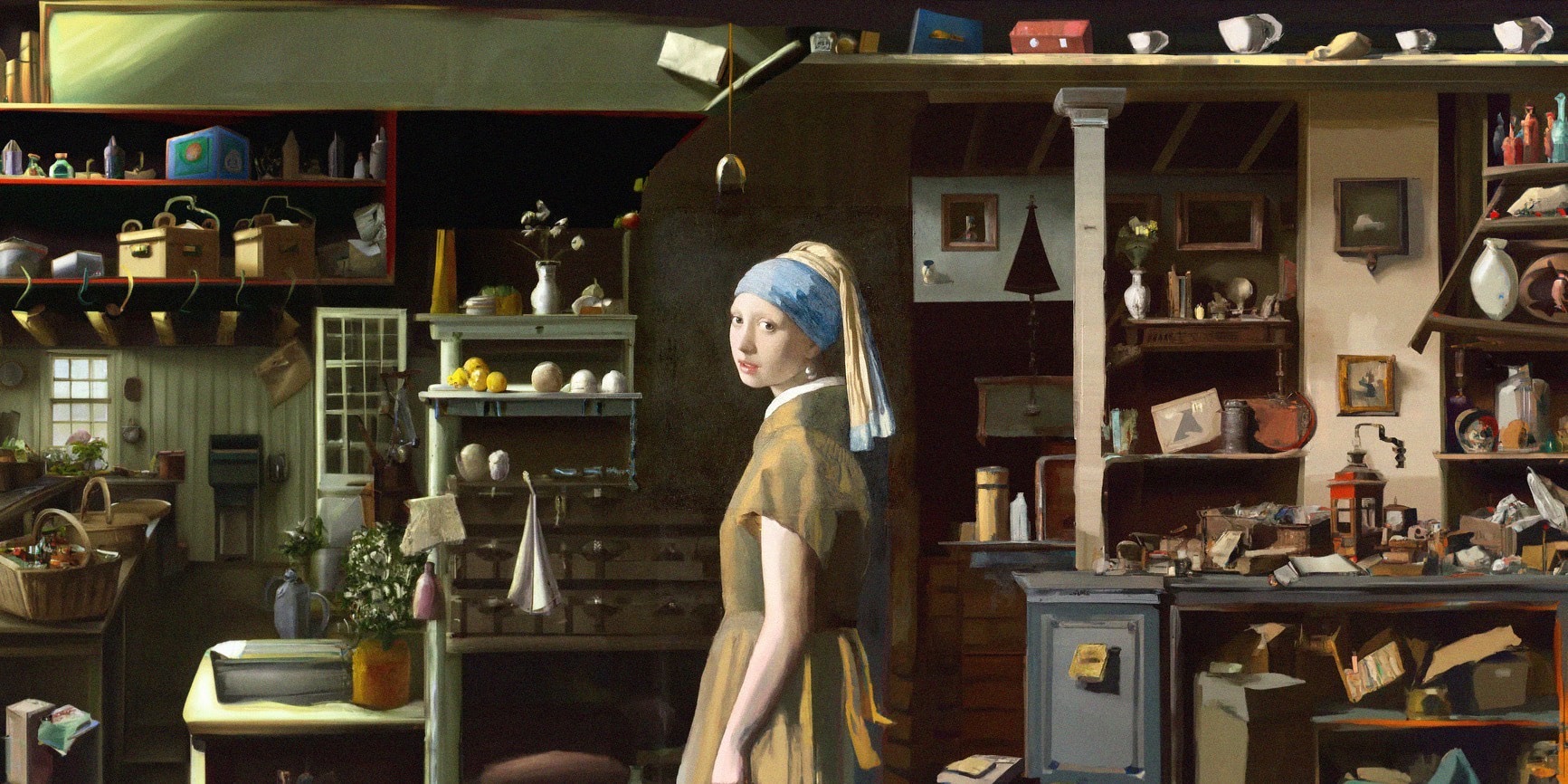 unique link to this extract
---
Craig Silverman and Bianca Fortis:
»

Since at least 2021, at least hundreds of people — including jewellers, crypto entrepreneurs, OnlyFans models and reality show TV stars — were clients of a scheme to get improperly verified as musicians on Instagram, according to the investigation's findings and information from Meta.

In response to information provided by ProPublica and the findings of its own investigation, Meta has so far removed fraudulently applied verification badges from more than 300 Instagram profiles, and continues to review accounts. That includes the accounts of Mike Vazquez and Lexie Salameh, two stars of the MTV reality show "Siesta Key." Rather than get verified for their TV work, they were falsely branded online as musicians in order to receive verification. They lost their badges approximately two weeks ago and did not respond to requests for comment.

[Suspended plastic surgeon, but to Instagram "DJ Dr 6ix" Martin] Jugenburg did not respond to a phone message left at his Toronto practice or to emails detailing evidence that he had paid for his Instagram verification. He has told media outlets he intends to vigorously defend himself against the class-action suit.

The scheme, which likely generated millions in revenue for its operators, illustrates how easily major social, search and music platforms can be exploited to create fake personas with real-world consequences, such as monetizing a verified account. It also underscores how Instagram's growth and cachet combines with poor customer support and lax oversight to create a thriving black market in verification services and account takedowns for hire.

«
Poor customer support? Of course, you're talking about a billion users (or a billion accounts, it's not a lot of difference). Imagine, for a moment, how many people you need to hire in order to provide good customer support, and have good oversight of scams like this. Remember, the network's complexity (and thus the amount of customer support required) grows geometrically as the number using it grows arithmetically. Problems spiral.
unique link to this extract
---
Emma Roth:
»

Twitter Circle, a feature that lets you limit your tweets to a smaller audience, is now available to everyone. The platform first started testing the feature among "select people" in May ahead of a wider rollout.

Twitter Circle is a lot like Instagram's "close friends" feature, which lets you share your posts with a smaller group of people. On Twitter, you can add up to 150 people to your Circle, whether they follow you or not. When you want to send out a tweet that you might not want the entire Twitterverse to see, you can choose to share it with your Circle instead.

You'll see the option to share to your Circle when you open the tweet composer. Choose the dropdown menu at the top of the composer, and then hit Circle. You can choose who you want in your Circle by hitting the Edit button that appears next to the option. Users won't receive a notification when you add or remove them from your Circle. But those included in your Circle will see a highlighted badge that reads, "Only people in @[username]'s Twitter Circle can see this tweet" beneath posts sent to your Circle.

«
This is yet another one of those features that absolutely nobody has been asking for, though it's nice to copy Instagram I suppose? Though this was first tried by Google with Google+ Circles, which was an absolute pain to use and quickly led to a sort of Circle exhaustion: trying to decide which Circles your various friends and contacts should belong in was tedious and, one soon realised, largely pointless.
unique link to this extract
---
Sarah Neville:
»

When Dr David Strain encountered a 64-year-old patient on his ward round, the British geriatrician had a bleak epiphany.

Less than six months earlier he had treated the man for Covid-19. Now, his deterioration was painful to witness. "He came in with a stroke and really bad delirium, a precursor of dementia," Strain says. "I saw the patient, recognised him [and] recognised the fact that his brain had dramatically aged."

By unsettling coincidence, the same day Strain, who is based at the University of Exeter in England's west country, had read a newly published study which identified significant brain shrinkage in a cohort of about 400 people aged between 51 and 81 who had recovered from coronavirus.

The encounter crystallised Strain's belief that Covid generated a kind of epidemiological aftershock by leaving people susceptible to a huge range of other conditions, threatening global health systems already struggling with insufficient resources and ageing populations. "It made me realise that this is something that we're going to be facing in a really big way in the near future," he says.

As he started to see a rise in certain conditions in the first year of the pandemic, Strain assumed it was the result of people being unable or unwilling to access healthcare. Only as the pandemic entered its second year did he begin to suspect that Covid itself could be increasing vulnerability to other serious illnesses.

He now sees it as an inversion of the huge drop in respiratory illness doctors saw from the 1980s onwards, when millions either stopped or reduced smoking. "The level of damage that's been done to population health [during Covid], it would be as if everybody suddenly decided to take up smoking in one go," Strain says.

«
Perhaps you'd stopped thinking about Covid, but like rust, it never sleeps. (Thanks G for the link.)
unique link to this extract
---
»

The US Open is the only major where men and women use different balls and, in the build-up to this year's tournament, a number of players have echoed [women's world No.1 Iga] Swiatek's comments.

…The women use Wilson US Open "regular duty" balls in New York, while the men use Wilson US Open "extra duty" balls. The "regular duty" balls are thinner and lighter than the "extra duty" ones. Wilson states that the regular balls are likely to fluff up more, meaning they play faster but are "less durable" than the extra duty.

Wilson also says that the regular duty balls are developed for softer surfaces, like clay or indoor courts, compared to the extra duty ones, which are for hard courts and "abrasive" surfaces.

Swiatek explained that the lighter balls can contribute to more unforced errors which, in turn, can make matches more unappealing to watch.

"Especially after three games of really hard playing, they are getting more and more light," she said at the Cincinnati Open last week. "At the end, you can't even serve at 170kmh [105mph] because you know it's going to fly like crazy. They are pretty bad. Right now we play powerful, and we kind of can't loosen up our hands with these balls. We make more mistakes, for sure, so I don't think that's really nice to watch visually."

The US Tennis Association said "a number of factors" are considered in deciding which balls to use. "The USTA works closely with the WTA [Women's Tennis Association] and [men's] ATP Tour, their player councils and our brand partner on an annual basis to determine what type of balls they recommend," a USTA spokesperson said. "The USTA will continue to follow the recommendations of the tours and their player councils to determine which balls are utilised during the US Open."

«
Wilson says the "regular duty" balls "use a thinner felt woven more tightly around the core to resist this fluffing. These balls play faster, but are less durable than Extra Duty.. [which] have a thicker felt woven a bit looser around the core to withstand shearing. That means that the felt on these balls is less likely to fluff up as they are played."
Fluffier balls = slower, take more spin. But: lighter balls = fly more, harder to control. It's a very strange balance, given that women tend to have longer rallies, so the balls get fluffier: meaning they go from uncontrollable to slow. Why have different balls in the first place, though, given nowhere else does? (Of course it's technology, why do you ask?)
unique link to this extract
---
John Hudson:
»

Ukraine may be outgunned, but in the latest sign it is not yet outfoxed, a fleet of decoys resembling advanced US rocket systems has tricked Russian forces into wasting expensive long-range cruise missiles on dummy targets, according to interviews with senior US and Ukrainian officials and photographs of the replicas reviewed by The Washington Post.

The Ukrainian decoys are made out of wood but can be indistinguishable from an artillery battery through the lens of Russian drones, which transmit their locations to naval cruise-missile carriers in the Black Sea.
"When the UAVs see the battery, it's like a VIP target," said a senior Ukrainian official, referring to unmanned aerial vehicles, or drones, encountering long-range artillery replicas.

After a few weeks in the field, the decoys drew at least 10 Kalibr cruise missiles, an initial success that led Ukraine to expand the production of the replicas for broader use, said the senior Ukrainian official, who like others spoke on the condition of anonymity to discuss sensitive military matters.

The use of rocket system decoys, which has not been reported previously, is one of many asymmetrical tactics Ukraine's armed forces have adopted to fight back against a bigger and better-equipped invading enemy. In recent weeks, Kyiv's operatives have blown up rail and electricity lines in occupied Russian territory, detonated explosives inside Russian arms depots and assassinated suspected collaborators.

«
Remarkable if true; you'd really want to see the before and after of one of these fakes, though there might not be much left after. If Russian drones are really unable to detect the difference (don't they use heat-seeking systems? Are the fakes hot somehow?), it doesn't say a lot about the quality of their weapons systems.
unique link to this extract
---
Haim Ravia and Dotan Hammer:
»

In an unprecedented decision, a High Court in England permitted the service of process of pleadings through a non-fungible token (NFT), to the digital wallets of the unnamed defendants.

The permission was granted as part of an application for interim relief filed by a British citizen allegedly conned by an American online trading website. The plaintiff transferred $2.1 million worth of Cryptocurrency to the website's digital wallet. When the transfer was completed, he discovered that his access to the website was blocked. Since the identities of the website's operators are unknown, the plaintiff asked to serve his court complaint via the blockchain. The court affirmed his request, holding that it meets the requirements under English law.

«
From the judge's remarks, it looks as though Binance, a crypto exchange, is going to get caught up in this case (if it goes any further) because it was a go-between in the super-fraudulent transaction. Dropping an NFT (receipt) into a wallet as a means of identifying someone uniquely is rather neat, though.
unique link to this extract
---
Jonah Fisher:
»

Over the last decade the size of wind farms and turbines have both increased, helping to bring down the cost of the electricity they generate.

"The last time I checked it was roughly £450 per megawatt hour to buy electricity generated by gas," says Simon Evans from Carbon Brief, a website that follows renewable energy issues. "That's about 9 times more expensive than the current cost to build new renewable capacity."

In the UK government's latest auction round in July, 11 gigawatts of renewable energy was commissioned which is enough to power about 12m homes. As part of its Net Zero targets the government has committed to de-carbonising electricity generation by 2035, with offshore wind playing a crucial role.

The current worldwide energy crisis, triggered by Russia's invasion of Ukraine, has intensified the search for alternatives to gas fired power stations. There are no quick solutions.

Offshore wind projects take about five years from planning consent to full operation, and there are those who say that the scale of the current energy crisis means that building wind farms onshore needs to be looked at again.

"Onshore wind has traditionally been the cheapest form of energy and you can get that up and running in about a year," Melanie Onn of Renewable UK told BBC News.

"We're not doing that at the moment because the planning process allows for a single person to object to an onshore wind farm and that closes the whole thing down, so we really need the government to take action and put our country's energy needs first."

«
"Allows for a single person to object" *screaming intensifies*
unique link to this extract
---
• Why do social networks drive us a little mad?
• Why does angry content seem to dominate what we see?
• How much of a role do algorithms play in affecting what we see and do online?
• What can we do about it?
• Did Facebook have any inkling of what was coming in Myanmar in 2016?

Read Social Warming, my latest book, and find answers – and more.
---
Errata, corrigenda and ai no corrida: none notified