Digital roadside signs can be distracting to drivers – especially if they focus on how many people die on the stretch of road. CC-licensed photo by Oregon Department of Transportation on Flickr.
You can sign up to receive each day's Start Up post by email. You'll need to click a confirmation link, so no spam.
A selection of 10 links for you. Observing the limit. I'm @charlesarthur on Twitter. Observations and links welcome.
---
Sarah Perez:
»

In a discussion about the evolution of search, [Google svp of Knowledge and Information Prabhakar Raghavan] somewhat offhandedly noted that younger users were now often turning to apps like Instagram and TikTok instead of Google Search or Maps for discovery purposes.

"We keep learning, over and over again, that new internet users don't have the expectations and the mindset that we have become accustomed to." Raghavan said, adding, "the queries they ask are completely different."

These users don't tend to type in keywords but rather look to discover content in new, more immersive ways, he said.

"In our studies, something like almost 40% of young people, when they're looking for a place for lunch, they don't go to Google Maps or Search," he continued. "They go to TikTok or Instagram."

The figure sounds a bit shocking, we have to admit. Google confirmed to us his comments were based on internal research that involved a survey of US users, ages 18 to 24. The data has not yet been made public, we're told, but may later be added to Google's competition site, alongside other stats — like how 55% of product searches now begin on Amazon, for example.

While older internet users may not be able to wrap their minds around turning to a social video app to find a restaurant, this trend could cut into Google's core business of search and discovery over time — not to mention the ads sold against those sorts of queries. While younger users may eventually launch some sort of maps app for navigation purposes, this data indicates they don't necessarily start their journey on Google anymore. That means all the work Google did over the years to organize, curate and recommend various businesses — such as local restaurants — or its creation of discovery tools inside Google Maps — could be lost on these younger internet users.

«
Tempora mutantur, and that sort of thing.
unique link to this extract
---
Jonathan Hall and Joshua Madsen:
»

Contrary to policy-makers' expectations, we found that displaying fatality messages increases the number of traffic crashes. Campaign weeks realize a 1.52% increase in crashes within 5 km of DMSs [dynamic message signs over/beside motorways], slightly diminishing to a 1.35% increase over the 10 km after DMSs. We used instrumental variables to recover the effect of displaying a fatality message and document a significant 4.5% increase in the number of crashes over 10 km.

The effect of displaying fatality messages is comparable to raising the speed limit by 3 to 5 miles per hour or reducing the number of highway troopers by 6 to 14%. We also found that the total number of statewide on-highway crashes is higher during campaign weeks. The social costs of these fatality messages are large: Back-of-the-envelope calculations suggest that this campaign causes an additional 2600 crashes and 16 fatalities per year in Texas alone, with a social cost of $377m per year.

Our proposed explanation for this surprising finding is that these "in-your-face," "sobering," negatively framed messages seize too much attention (i.e., are too salient), interfering with drivers' ability to respond to changes in traffic conditions.

Supporting this explanation, we found that displaying a higher fatality count (i.e., a plausibly more attention-grabbing statistic) causes more crashes than displaying a small one, that fatality messages are more harmful when displayed on more complex road segments, that fatality messages increase multi-vehicle crashes (but not single-vehicle crashes), and that the impact is largest close to DMSs and decreases over longer distances.

«
I'd wonder if showing those statistics just makes you fret more about how dangerous the road must be.
unique link to this extract
---
Andy Chalk:
»

Getting Doom to run on things that were never meant to run Doom is something of a cottage industry among a die-hard subset of PC hackers and coders. Your motherboard's BIOS (opens in new tab), a bunch of old potatoes (opens in new tab), a Lego brick (opens in new tab), a home pregnancy test (opens in new tab): The list goes on and on. But YouTuber and Doomworld community member kgsws has set a new standard for, well, something with this brilliant bit of techno-recursion: Doom running in Doom.

The full explanation for how it works gets technical (and, frankly, a bit dull, unless hacking is your hobby) but what it comes down to is an exploit that enables code execution within the game itself. That's why this bit of trickery only works with the original DOS-based Doom 2, and not any of the more modern ports like GZDoom, which lack the exploit. (That's not convenient for this project but it's a good thing overall, kgsws noted: "People would abuse it to spread malicious code.")

«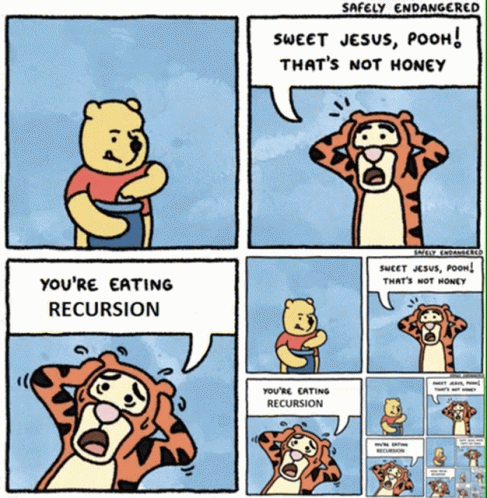 unique link to this extract
---
Ella Nilsen:
»

In a rare move, more than 200 congressional staffers have sent a letter to Democratic leadership in the House and Senate, demanding they close the deal on a climate and clean energy package and warning that failure could doom younger generations.

"We've crafted the legislation necessary to avert climate catastrophe. It's time for you to pass it," the staffers wrote in a letter, sent to Senate Majority Leader Chuck Schumer and House Speaker Nancy Pelosi on Tuesday evening. The letter, which staffers signed anonymously with initials, was shared first with CNN.

"Our country is nearing the end of a two-year window that represents a once-in-a-generation opportunity to pass transformative climate policy," the letter continues. "The silence on expansive climate justice policy on Capitol Hill this year has been deafening. We write to distance ourselves from your dangerous inaction."

The staffers' grievances were delivered as Schumer negotiates with Sen. Joe Manchin of West Virginia on a Democrat-only package that is expected to address inflation, the cost of prescription drugs, energy and the climate crisis. The climate and energy portion has remained the largest sticking point in negotiations, as Manchin has publicly stated he wants to lower gas prices by increasing US energy production.

«
There's always a short-term reason. Though the real short-term reason is that they want to stay in power; all else subsumes to that.
unique link to this extract
---
Mike Masnick read the Twitter lawsuit against Musk so you don't have to, and pretty amazing it is in so many ways:
»

even if — as many Musk fans keep wanting to insist — Twitter misled the SEC (and there's little to no evidence to support that claim), in the merger agreement Musk explicitly said that he didn't rely on such statements in the first place, and thus it wouldn't make any difference at all.

I mean, kudos to Twitter's lawyers who put together this purchase agreement, because they appear to have anticipated every stupid trick that Musk would try to pull.

Now, as for the other information sharing bit — the pretextual nonsense where Musk pretends Twitter isn't sharing the info it promised him and which he needs to close the deal — Twitter's lawyers dismantle that rather aggressively as well.

…Given all that, for Musk to claim that employees leaving was a reason he's backing out of the deal is just so so incredibly rich. This entire complaint is basically showing that everything Musk does is in bad faith. Honestly, reading this, it's difficult to see why anyone should ever trust Musk in any business deal ever again.

The lawyers even included some late breaking tweets, in which Musk posted ridiculously laughable memes implying that this whole mess was all part of his plan to force Twitter into court to reveal the information he wanted revealed. But, in doing so, he's effectively admitting that this entire thing was pretextual bad faith actions — which… um.. does not make him look good. Especially not in the eyes of a court that deals with business disputes all the time.

«
The growing expectation is that Musk is going to come off worse in this. He owns 9.6% of the company shares (presently worth about $3bn); maybe he'll give those up plus a chunk of cash (the $1bn penalty fee?). That would roughly double its cash on hand. Not a bad outcome.
unique link to this extract
---
Aisha Counts:
»

From the fourth quarter of fiscal year 2021 to 2022, revenue growth slowed to 21% year-over-year. While still healthy compared to Zoom's enterprise-tech peers, it was a far cry from the heyday of the pandemic. And last quarter, year-over-year revenue was up only 12%.

That sort of late-pandemic shock was expected to some extent, but not in such a drastic manner. "I think what is a surprise to investors, and this is reflected in the stock price, is how quickly things slowed down and how dramatically. I think people were expecting growth to be 30%, not mid-teens," said Rishi Jaluria, managing director at RBC Capital Markets.

In many ways Zoom's explosive growth during the pandemic may have been its Achilles' heel. While the number of customers more than quadrupled, the company also seemed to have captured its entire target market — a concern investors have held for a while. "It's renewing questions of No. 1, did they just pull forward all of their [total addressable market], and No. 2, if that's the case, how do they grow from here?" asked Jaluria.

The natural approach would be by expanding into new markets and products, which explains Zoom's vision for becoming a platform player. But Zoom has had a number of setbacks along the way.

Not long after the company announced its plan to expand into the contact center space, its acquisition of cloud-based contact center company Five9 fell through. Zoom announced its all-stock offer for Five9 in July of 2021, but by the time the deal was supposed to close, Zoom's stock price had plummeted almost 30%. Five9 shareholders felt the purchase price was undervaluing the company and subsequently rejected the $14.7bn deal, forcing Zoom back to the drawing board.

To many, the failed Five9 acquisition was a major miss. "Five9 is on a roll right now and that would have enabled Zoom to strengthen its portfolio and provide more of a platform approach to their clients," said Steven Dickens, a senior analyst at Futurum Research.

Zoom's platform vision is also under serious threat from competitors who can offer video capabilities alongside broader and more robust collaboration products.

«
The idea that Zoom has captured its entire addressable market seems plausible. Its name awareness is astronomic. But it's also not necessarily used for enterprise work, which is where the money is.
And talking of pandemic stock darlings…
unique link to this extract
---
Andrew Edgecliffe-Johnson:
»

The New York-based group said it would suspend operations at Tonic Fitness Technology, the Taiwanese manufacturing facility it acquired for about $45m less than three years ago. Rexon Industrial, another Taiwanese company with which it has worked for several years, will become the primary manufacturer of Peloton's bikes and treadmills.

Barry McCarthy, the former Netflix and Spotify executive Peloton brought in as chief executive in February, portrayed the move as a natural progression in a strategy of simplifying the company's supply chain and focusing on software and content rather than on hardware, where he has been trying to improve its profit margins.

"We believe that this along with other initiatives will enable us to continue reducing the cash burden on the business and increase our flexibility," he added.

In May, Peloton said it had ended its fiscal third quarter with just $879mn in unrestricted cash and cash equivalents, with McCarthy admitting that cash outflows had left it "thinly capitalised" for a business of its size.

It has since raised $750m in new debt from lenders including Blackstone and Apollo, as McCarthy tries to cut $800m from annual costs by 2024. But its stock has fallen below $9 per share, cutting its equity valuation to $3bn from a peak of almost $50bn in late 2020, when investors hoped that the pandemic-fuelled surge in appetite for exercising at home would continue.

«
Bike production was paused by in January anyway. Back in April, I wrote: "I remain fascinated by how badly Peloton is working towards its obvious end state where it takes the high end to provide really good fitness workouts for any platform, not just its own hardware. Though it will find companies like Zwift already there, and happy to have a fight for user loyalty."
Getting rid of the hardware is certainly a good step towards that high end. But now it has to figure out how to reach other stationary bike riders – where Zwift is well embedded.
unique link to this extract
---
Rajarshi Roy, Jonathan Raiman and Saad Godil:
»

As Moore's law slows down, it becomes increasingly important to develop other techniques that improve the performance of a chip at the same technology process node. Our approach uses AI to design smaller, faster, and more efficient circuits to deliver more performance with each chip generation.

Vast arrays of arithmetic circuits have powered NVIDIA GPUs to achieve unprecedented acceleration for AI, high-performance computing, and computer graphics. Thus, improving the design of these arithmetic circuits would be critical in improving the performance and efficiency of GPUs.

What if AI could learn to design these circuits? In PrefixRL: Optimization of Parallel Prefix Circuits using Deep Reinforcement Learning, we demonstrate that not only can AI learn to design these circuits from scratch, but AI-designed circuits are also smaller and faster than those designed by state-of-the-art electronic design automation (EDA) tools. The latest NVIDIA Hopper GPU architecture has nearly 13,000 instances of AI-designed circuits.

«
Notable that Google had a blogpost about doing the same process for its own chips back in April 2020. Might wonder whether everyone doing chip design is now using these techniques. Which should include Apple?
unique link to this extract
---
Chris Baraniuk:
»

Seventy-eight% of all rare earth materials imported to the United States between 2017 and 2020 originated in China, according to the US Geological Survey. China also produces more than 80% of the world's total rare earth refined products—compounds of these metals that are easily processed further and have all sorts of uses. The rest of the world more or less relies on China for its supply of these materials, though the country is also the largest consumer of rare earth elements.

That Turkey's deposits could potentially upend this situation makes for a good headline. But we should take it with a sizable pinch of salt, says Kathryn Goodenough, principal geologist at the British Geological Survey. "The idea that this is some massive new reserve that we didn't know of before is just plain wrong," she says, adding that without a formal estimation of these resources that meets the standards of the global mining industry, it's impossible to know the full extent of the recoverable, high-grade rare earth elements present in Turkey—and that's what really matters.

A story in the Global Times, a publication owned by the Chinese Community Party, included a statement from the state-backed Bao Gang United Steel Group that critiqued the Turkish energy minister's claims. "If the reserves are in the form of rare earth oxides, such scale of reserve should rank number one in the world, ahead of China," the comment read, referring to the refined compounds containing these metals that are readily consumed by various industries worldwide. The alleged 694 million tons likely refers instead to preprocessed minerals, the statement continued.

«
If Turkey had been correct, and really had nearly 700 million tons of rare earths, it would totally upend the balance of power in this. Unfortunately, seems like it might just ameliorate it.
unique link to this extract
---
Laura Lane:
»

Since humans invented art, sometime in the Paleolithic era, they've produced lots of pictures—"The Starry Night," some memes, that photo of Donald Trump staring at the eclipse. What does it all add up to?

A few years ago, a company called OpenAI fed a good deal of those images, along with text descriptions, into the neural network of an artificial intelligence named dall-e. dall-e was being trained to create original art of its own, in any style, depicting in uncanny detail almost anything desired, based on written prompts. But a mastery of the entire universe of human imagery makes for difficult choices. How do you decide what dall-e should create?

After careful deliberation, one of the first images that OpenAI prompted was a doughnut made of porcupine quills.

"There was this belief that creativity is this deeply special, only-human thing," Sam Altman, OpenAI's C.E.O., explained the other day. Maybe not so true anymore, he said. Altman, who wore a gray sweater and had tousled brown hair, was videoconferencing from the company's headquarters, in San Francisco. dall-e is still in a testing phase.

So far, OpenAI has granted access to a select group of people—researchers, artists, developers—who have used it to produce a wide array of images: photorealistic animals, bizarre mashups, punny collages. Asked by a user to generate "a plate of various alien fruits from another planet, photograph," dall-e returned something kind of like rambutans. "The rest of mona lisa" is, according to dall-e, mostly just one big cliff. Altman described dall-e as "an extension of your own creativity."

«
One of the pictures is "a real hippopotamus sitting on a sofa smoking a cigarette, 70mm Nikon," as prompted by the cartoonist Roz Chast. And, well, that's what it is. As happened with chess and Go, we can all be artistic centaurs now – part human, part machine. Plus, what a brilliant name for the product.
unique link to this extract
---
• Why do social networks drive us a little mad?
• Why does angry content seem to dominate what we see?
• How much of a role do algorithms play in affecting what we see and do online?
• What can we do about it?
• Did Facebook have any inkling of what was coming in Myanmar in 2016?

Read Social Warming, my latest book, and find answers – and more.
---
Errata, corrigenda and ai no corrida: none notified