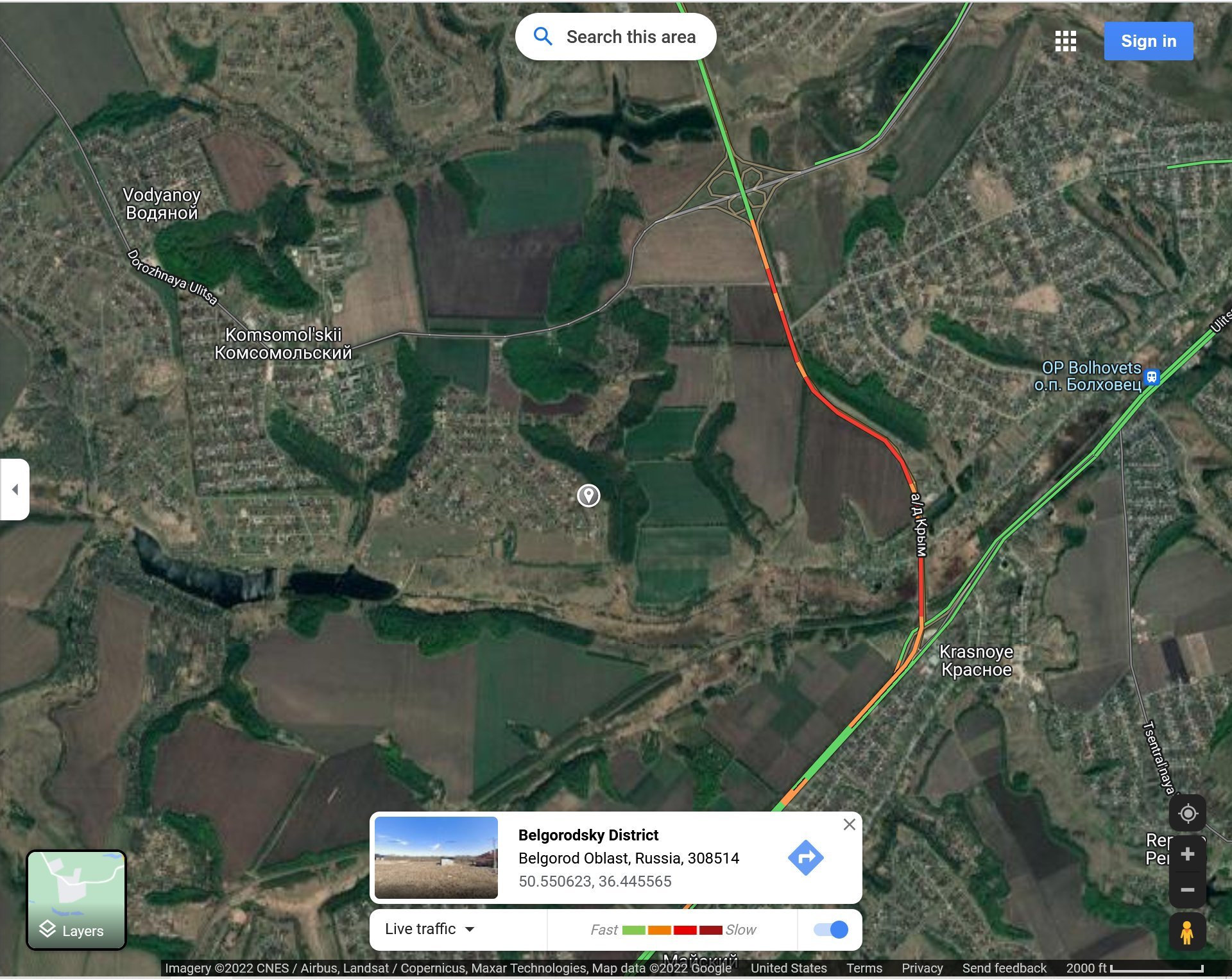 Google Maps showed the Russian invasion happening in real time. Now Google's turned that data off because of its potential for Russian use for targeting.
You can sign up to receive each day's Start Up post by email. You'll need to click a confirmation link, so no spam.
A selection of 10 links for you. Ukraine first, other stuff after. I'm @charlesarthur on Twitter. Observations and links welcome.
---
Ben Collins and Jo Ling Kent:
»

Facebook and Twitter removed two anti-Ukrainian "covert influence operations" over the weekend, one tied to Russia and another with connections to Belarus, the companies said.

One of the operations, a propaganda campaign featuring a website pushing anti-Ukraine talking points, was an offshoot of a known Russian disinformation operation. A Facebook spokesperson said it used computer-generated faces to bolster the credibility of fake columnists across several platforms, including Instagram.

The other campaign used hacked accounts to push similar anti-Ukraine propaganda and was tied to a known Belarusian hacking group.

Disinformation experts warned that Russia is expected to continue to try to manipulate narratives about Ukraine — most notably around the claims made by Russian President Vladimir Putin.

The networks that were removed by Facebook and Twitter pushed narratives that Putin himself mentioned in his speech announcing a military operation, which has since turned into a large-scale invasion.

The announcement also demonstrates that Russia continues to use disinformation strategies first identified years ago around the 2016 election, albeit with some advancements — most notably the use of software that can create realistic and original human faces.

«
My impression is that Russia has been faring exceptionally badly in the information wars. There's so much factual stuff coming out of Ukraine (and wildly exaggerated stuff). Plus there doesn't seem to be any media embedded with the Russian troops. Pictures win the morale war – though of course it's troops that win the real war.
unique link to this extract
---
Gavin Butler:
»

Google has temporarily disabled tools that provide live information about traffic conditions in Ukraine, the company confirmed to VICE World News, following reports that people around the world were using the service to track the movements of troops and civilians during the Russian invasion.

Google Maps' live traffic data works by incorporating location and speed information from smartphones with the app, then using it to show in real-time how dense traffic conditions are in certain places, or how busy those areas are overall. When Russian President Vladimir Putin launched an attack on Ukraine last week, however, some spectators realised the feature could also be used to provide open-source insights regarding the whereabouts of military operations.

"I think we were the first people to see the invasion. And we saw it in a traffic app," Jeffrey Lewis, an open-source intelligence expert and professor at Middlebury Institute, told Motherboard, after he noticed an unusual traffic jam developing around the Russian border town of Belgorod on Thursday morning.

This was just hours after Putin declared a "special military operation" in the eastern Ukrainian region of Donbas, foreshadowing a potential invasion. But the traffic buildup Lewis was seeing on Google Maps was across the border from a different region of Ukraine, north of Kharkiv, and slowly extended to the border before it disappeared.

"We have developed incredibly data-rich definitions of what normal patterns of life look like," Lewis explained. "And any deviation is immediately caught."

«
Google has also disabled the data showing how busy locations are, as that could be used for targeting. The Ukraine carriers, meanwhile, have blocked Russian phones from connecting to their base stations. That'll lead to some annoyed conscripts.
unique link to this extract
---
Maxwell Strachan:
»

Faced with a request by Ukrainian leadership to freeze the accounts of all people in Russia and Belarus, major crypto exchanges are steadfastly refusing, saying the tactic would unfairly harm civilians and "fly in the face" of the crypto community's libertarian ideology.

In a tweet, Vice Prime Minister of Ukraine Mykhailo Fedorov publicly asked the world's major crypto exchanges over the weekend to freeze all accounts of the Russian people, as well as the people of Belarus, a Putin ally, rather than only those entities who have been legally sanctioned, thereby placing additional domestic pressure on Russia to end its war on Ukraine.

Instead of joining the military defence, the US and European Union have attempted to cripple Russia's economy by aggressively sanctioning Russian banks, sovereign debt, and leadership, leading the Russian ruble to plunge in value. At the same time, cryptocurrency has emerged as a site of contest, with millions of dollars in crypto being donated to Ukraine while observers wonder if Russia will turn to the blockchain to escape sanctions.

A spokesperson for US-based exchange Coinbase told Motherboard that the company will not comply with the request to ban all Russian users, citing "economic freedom" and the harm that a ban would bring to average Russians, but that it is complying with existing sanctions.

"At this time, we will not institute a blanket ban on all Coinbase transactions involving Russian addresses. Instead, we will continue to implement all sanctions that have been imposed, including blocking accounts and transactions that may involve sanctioned individuals or entities," the spokesperson said in an emailed statement. "Our mission is to increase economic freedom in the world. A unilateral and total ban would punish ordinary Russian citizens who are enduring historic currency destabilization as a result of their government's aggression against a democratic neighbor. We remain vigilant as this invasion evolves and are deeply committed to playing our part."

Coinbase conducts sanctions screening as part of its onboarding process, the spokesperson said, and blocks transactions between sanctioned entities as well as uses analytics to identify illicit transactions.

«
What about some sort of volume limitation? Cap transactions at the equivalent of £10,000? But of course someone could create lots of wallets and split large amounts into multiple smaller ones. But the bank sanctions hit individuals too; the point is that it's those needing to move large amounts of money who are hit the hardest by it. Same with crypto. Therefore a ban does make sense if you're really looking to play your part.
unique link to this extract
---
Matthew Gault:
»

On February 21, Tass—a Russian news agency—reported that five Ukrainian soldiers had crossed the border into Russia riding two armored personnel carriers (APC). According to the story, Russian forces destroyed both vehicles and killed the five Ukrainians. Later, Russia released a helmet-cam from one of the supposed Ukrainians as well as photos and videos of one of the destroyed APCs. It's one of many Russian reports of alleged Ukrainian aggression — like the shelling of a school in Donetsk and Luhansk — that Russia has used to justify its military action in the region.

Soon after the footage hit the internet, sleuths had picked it apart. One Twitter user used metadata of the video file and satellite imagery to geolocate the images and figured out it had all been filmed in the exact same location where Russia previously claimed a shell had destroyed a border post.

The location of the skirmish was miles from where Russia said it was and deep inside occupied territory in Eastern Ukraine, not Russia. The destroyed APC was a BTR-70M, a type that Ukraine doesn't own, painted over to make it look Ukrainian.

There are dozens of stories like this. But as Russia floods Telegram, TikTok, and its own state-controlled media with stories of Ukrainian aggression, people on the internet are using open-source intelligence tools that have proliferated in recent years to debunk Russia's claims. Internet sleuths are debunking the Kremlin's disinformation and justification for war in real time.

Amid all this, Eliot Higgins and Bellingcat are collecting the data, fact checking it, archiving footage, and amplifying the messages online. Higgins and Bellingcat are old hands at this. They've been tracking conflict online and sifting through the morass of multiple sources and bad information for eight years now.

They've gotten good at it. "It used to be days or weeks until we had fact checks," Higgins told Motherboard over the phone. "Now we're getting it within an hour. That helps with the rapid news cycle. The question of whether these will be authentic or not is being answered very quickly. We didn't have that back in 2014."

«
This is definitely a very encouraging trend. We've come a long, long way since 2016, when misinformation bloomed around the Philippines election, Brexit referendum and US presidential election.
unique link to this extract
---
Kamil Galeev:
»

Why Russia will lose this war?

Much of the "realist" discourse is about accepting Putin's victory, cuz it's *guaranteed*. But how do we know it is?

I'll argue that analysts 1) overrate Russian army 2) underrate Ukrainian one 3) misunderstand Russian strategy & political goals. Here's a thread.

«
This is a single-page long read (not just in Twitter terms) but gives an excellent (as far as I can tell) insight into what's been going on in the Russian army, and why being led by someone who's survived every regime change since 1991 isn't necessarily a good thing for success in the field. Ukraine is big, especially compared to Georgia, and things are very different from 2008 and 2014 – particularly in Ukraine's army.
Another Twitter thread talked about how military officers are either regulators or ratcatchers. Regulators thrive in peacetime. Ratcatchers are what you want in war. Russia's military chief is a regulator. (To get a Twitter thread on a single page like this, reply to any tweet in the thread with "@threadreadapp unroll please" and it will reply to you with a link to a page.)
unique link to this extract
---
Adi Robertson:
»

It's still not quite clear what scanning and sharing the book will ultimately entail, nor how much of the DAO's roughly $3m in remaining Ethereum — according to its public treasury ledger — it will require. As of earlier this month, the bible was in Paris awaiting shipment to Delaware, after which it's going to a climate-controlled art storage facility once the DAO sets up formal corporations and a bank account to make payments. The budget outline estimates storage and insurance will cost around $30,000 annually, plus fees for shipping and potential physical exhibition — which, at this point, might be the only risk-free way of sharing the whole book.

Around that January vote, Spice DAO had hit a rough patch. The value of the $SPICE token had cratered alongside a worldwide crash in cryptocurrency, including Ethereum, which Spice DAO used to store its funds. (Disclosure: I purchased a little under 60,000 $SPICE for $30 in the process of reporting this story. I sold it before this article's publication for $8.) They had also failed to get approval for putting scans of the book online, a key reason lots of people supported the project.

The group's forums lit up with drastic and quickly abandoned member proposals. They included a nixed plan that involved minting an NFT for every page of Jodorowsky's bible and then burning the physical copy, leading the organizers to post a Discord message reassuring visitors they weren't going to destroy the book.

The animated series, meanwhile, had become a point of tension between the core team and some backers. The organizers posted a Roble Ridge pitch for a series tentatively titled Vengeance on Planet Zug, including a rough draft of a potential pilot script. The script follows a protagonist with a burning desire for vengeance (naturally) and an "oversized sword," which he uses to messily slaughter a bar full of people in an "extremely gore-heavy sequence" before throwing it across a room to impale a man against a wall.

The community response was less than thrilled. ("Sorry but what the hell is this," said one DAO member in the group's Discord.)

«
The volatility of cryptocurrency – especially the specific coins issued for DAOs – makes these flights of fancy even more fanciful. Keeping the book in a climate-controlled space will cost about $30,000 annually. That adds up, especially if your currency is challenging the ruble at cliff-diving.
unique link to this extract
---
Diego Jemio, Alexa Hagerty and Florencia Aranda:
»

"With technology you can foresee five or six years in advance, with first name, last name, and address, which girl—future teenager—is 86% predestined to have an adolescent pregnancy," Juan Manuel Urtubey, then the governor of the province [of Salta in northeastern Argentina], proudly declared on national television. The stated goal was to use the algorithm to predict which girls from low-income areas would become pregnant in the next five years. It was never made clear what would happen once a girl or young woman was labeled as "predestined" for motherhood or how this information would help prevent adolescent pregnancy. The social theories informing the AI system, like its algorithms, were opaque.

The system was based on data—including age, ethnicity, country of origin, disability, and whether the subject's home had hot water in the bathroom—from 200,000 residents in the city of Salta, including 12,000 women and girls between the ages of 10 and 19. Though there is no official documentation, from reviewing media articles and two technical reviews, we know that "territorial agents" visited the houses of the girls and women in question, asked survey questions, took photos, and recorded GPS locations. What did those subjected to this intimate surveillance have in common? They were poor, some were migrants from Bolivia and other countries in South America, and others were from Indigenous Wichí, Qulla, and Guaraní communities.

Although Microsoft spokespersons proudly announced that the technology in Salta was "one of the pioneering cases in the use of AI data" in state programs, it presents little that is new. Instead, it is an extension of a long Argentine tradition: controlling the population through surveillance and force. And the reaction to it shows how grassroots Argentine feminists were able to take on this misuse of artificial intelligence.

«
No formal review, no official data on accuracy or outcomes – a classic piece of AI work. (How do you lower teenage pregnancies? It's not easy, but it can be done. Doesn't require AI.)
unique link to this extract
---
Nathan Munn worked as a moderator back in the early days of Pornhub:
»

I realized that, even as I tried to keep my distance from the porn, I was, in fact, exercising my personal judgment every day — and that there was no way to do the job without making decisions based on what I thought was appropriate.

I often encountered videos that were uploaded again and again, no matter how many times I removed them. One day, a woman emailed me, calmly explained that her ex-boyfriend had uploaded a video of them having sex, and asked me to remove it. I deleted the clip. Later that week, it was re-uploaded. The woman wrote again, I removed it, and this continued for months; I must have pulled the same video down a dozen times. This was before I had ever heard the term "revenge porn."

Requests like this were not uncommon. Once, a woman wrote to say there was a video of her on Tube8 that showed her being sexually assaulted after someone spiked her drink at a party. The video had tens of thousands of views, so I had to review it before making the call to remove it. In the clip, the woman is clearly high, laughing and head lolling, having sex on a bed surrounded by fully dressed people holding drinks and watching as coloured lights flashed and music blared in the background. I took it down, but it was uploaded again repeatedly in the following months. Each time, the mortified woman flagged it, and each time, I removed it; both of us were aware that there was nothing we could do to stop the clip from resurfacing.

I only learned about the adult industry through informal chats and secondhand conversation around the office. Competition in the porn world was cutthroat. A Manwin developer told me how, when they caught a competitor ripping off content from Pornhub to create a knockoff website, engineers placed a link to the offending website in a few pixels of the Pornhub homepage, where millions of people clicked daily. The resulting tsunami of web traffic swamped the pirate site and knocked it offline in minutes — the kiss of death.

«
---
Jon Sarlin:
»

China's cryptocurrency mining ban in the spring of 2021 significantly worsened Bitcoin's environmental impact, according to new research on crypto mining published in Joule. It is because Bitcoin miners were tapping into a significant amount of Chinese hydropower which suddenly evaporated when China made mining illegal, said Alex de Vries, one of the study's authors and a researcher at the School of Business and Economics at the Vrije Universiteit Amsterdam.

So miners took their business elsewhere, including countries using significantly dirtier energy than China. Electricity sources powering the Bitcoin network were just 25.1% renewable in August 2021, nearly 17 percentage points lower than the 2020 average.

Mining Bitcoin each year produces as much pollution as Greece created in 2019, the study found. A single Bitcoin transaction results in the same carbon footprint as a traveler flying from New York to Amsterdam.

"After China banned Bitcoin mining, everyone was expecting it to become more green, but we are somewhat surprisingly seeing the opposite happening." said de Vries. "A lot of the hydropower these miners got previously in China has now been replaced with natural gas from the US."

Bitcoin mining is still booming in the United States. According to the study, many of the American Bitcoin mines are powered by natural gas and coal. Kentucky now offers subsidies to crypto miners, looking to attract business for the state's coal industry.

Kazakhstan has also become a destination for Bitcoin miners. According to the study, the country's electricity grid is reliant on hard coal, which is even more polluting than the coal used in China.

«
It's a no-win. If it uses renewables, it's displacing the use of that energy by something useful. If it's using something else, it's adding to the general load, pulling polluting generators online.
unique link to this extract
---
Foo Yun Chee:
»

Some US tech giants may prefer to pay a fine rather than comply with antitrust rules, the European Union's antitrust chief said, and cited Apple's fight with the Netherlands' competition authority as an example.

The Dutch Authority for Consumers and Markets (ACM) imposed a €5m ($5.7m) fine on Apple on Monday [21st], the fifth such penalty in successive weeks, linked to claims Apple does allow access to non-Apple payment methods for subscriptions to dating apps.

European Commission Vice President and digital chief Margrethe Vestager said Apple's behaviour could indicate other big companies behave similarly.

"Some gatekeepers may be tempted to play for time or try to circumvent the rules," she said in an online speech at a US awards ceremony on Tuesday.

"Apple's conduct in the Netherlands these days may be an example. As we understand it, Apple essentially prefers paying periodic fines, rather than comply with a decision of the Dutch Competition Authority on the terms and conditions for third parties to access its App Store."

«
She's not wrong. For Facebook and Apple, among others, such fines are just a cost of doing business. Apple's behaviour over the Dutch case is especially egregious (to outsiders) and hard to explain except as a combination of extreme entitlement – we built it so we should be able to make money from it in perpetuity – and tone-deafness.
unique link to this extract
---
• Why do social networks drive us a little mad?
• Why does angry content seem to dominate what we see?
• How much of a role do algorithms play in affecting what we see and do online?
• What can we do about it?
• Did Facebook have any inkling of what was coming in Myanmar in 2016?

Social Warming, my latest book, and find answers – and more.
---
Errata, corrigenda and ai no corrida: none notified