Britain's Arm Holdings is about to be snapped up by America's Nvidia, reportedly for $40bn CC-licensed photo by Adam Greig on Flickr.
You can sign up to receive each day's Start Up post by email. You'll need to click a confirmation link, so no spam.
A selection of 10 links for you. And we're back. I'm @charlesarthur on Twitter. Observations and links welcome.
Alexandra Witze:
»

Wildfires blazed along the Arctic Circle this summer, incinerating tundra, blanketing Siberian cities in smoke and capping the second extraordinary fire season in a row. By the time the fire season waned at the end of last month, the blazes had emitted a record 244 megatonnes of carbon dioxide — that's 35% more than last year, which also set records. One culprit, scientists say, could be peatlands that are burning as the top of the world melts.

Peatlands are carbon-rich soils that accumulate as waterlogged plants slowly decay, sometimes over thousands of years. They are the most carbon-dense ecosystems on Earth; a typical northern peatland packs in roughly ten times as much carbon as a boreal forest. When peat burns, it releases its ancient carbon to the atmosphere, adding to the heat-trapping gases that cause climate change.

Nearly half the world's peatland-stored carbon lies between 60 and 70 degrees north, along the Arctic Circle. The problem with this is that historically frozen carbon-rich soils are expected to thaw as the planet warms, making them even more vulnerable to wildfires and more likely to release large amounts of carbon. It's a feedback loop: as peatlands release more carbon, global warming increases, which thaws more peat and causes more wildfires (see 'Peatlands burning'). A study published last month1 shows that northern peatlands could eventually shift from being a net sink for carbon to a net source of carbon, further accelerating climate change.

«
I've been reading a sci-fi series dubbed the "Lady Astronaut" books which opens in 1952 with a meteor impact destroying Washington and putting so much water vapour into the atmosphere that runaway heating becomes inevitable, so that escaping Earth becomes the only solution.
Not sure that's our best option, even with nearly 60 years' more technology experience. What we really need is technology to remove carbon dioxide and methane from the atmosphere in gigantic amounts. It would be the most valuable breakthrough imaginable.
unique link to this extract
---
Elizabeth Weil:
»

in 2005, frustrated by the huge gap between what he was learning about fire management and seeing on the fire line,[Tim Ingalsbee] started Firefighters United for Safety, Ethics, and Ecology. Since then FUSEE has been lobbying Congress, and trying to educate anybody who will listen, about the misguided fire policy that is leading to the megafires we are seeing today.

So what's it like? "It's just … well … it's horrible. Horrible to see this happening when the science is so clear and has been clear for years. I suffer from Cassandra syndrome," Ingalsbee said. "Every year I warn people: Disaster's coming. We got to change. And no one listens. And then it happens."

The pattern is a form of insanity: We keep doing overzealous fire suppression across California landscapes where the fire poses little risk to people and structures. As a result, wildland fuels keep building up. At the same time, the climate grows hotter and drier. Then, boom: the inevitable. The wind blows down a power line, or lightning strikes dry grass, and an inferno ensues. This week we've seen both the second- and third-largest fires in California history. "The fire community, the progressives, are almost in a state of panic," Ingalsbee said. There's only one solution, the one we know yet still avoid. "We need to get good fire on the ground and whittle down some of that fuel load."

Yes, there's been talk across the U.S. Forest Service and California state agencies about doing more prescribed burns and managed burns. The point of that "good fire" would be to create a black-and-green checkerboard across the state. The black burned parcels would then provide a series of dampers and dead ends to keep the fire intensity lower when flames spark in hot, dry conditions, as they did this past week.

«
"Sclerotic" seems an apt word for the inability to make effective decisions.
unique link to this extract
---
"Neal":
»

I was watching my sister play, who had become a solitaire addict after she QAd [did quality assurance on] the game. She was obsessed with beating her personal bests and getting high scores for the game of the day. When I watched her play though, quizzically, she had not registered for an account.

I asked her why, she said she just didn't want to give her email away and get bombarded by more emails. I was dumbfounded, because after all, her brother (me), was the co-founder of the site and yet she still had these concerns.

The lightbulb went off. Since sending emails did not provide value, and if anything was an additional cost, what if we just asked for a username. While this creates issues with password recovery, we thought this would drive up registrations and improve retention. We also have a long term cookie so users wouldn't have to login again.

When we changed email sign ups simply to usernames, we saw registrations increase by a huge 36%! More importantly, we saw return users increase another 4.5%.

This meant email registration was holding us back from driving retention.

Digging in further, we're also seeing return visitors playing more games like Freecell and Spider. Leaderboards and simple registration have encouraged users to try new games.

«
A long time ago at The Guardian, another startup wrote an article for me about how his startup had struggled (it was aimed at teens) until they stopped asking for email registration. Then user numbers rocketed. Generally now your computer will remember these details for you.
unique link to this extract
---
Rob Sturgeon:
»

I tried a little experiment: blocked apps from tracking my iPhone for just one week

And during that time I was tracked 4,341 times by 33 tracking platforms.

Some highlights:
• Google tracked me nearly twice as much as all others combined
• Facebook and Amazon tracked me more than any other company (except Google)
• The rest of the data goes to 29 companies, most of which I've never heard of

Let's remember this was just one week. If we assume the rate of tracking has always been somewhat similar, we can extrapolate from there. If all 52 weeks in a year are the same, I'm being tracked 225,732 times a year. And I've been using iPhones exclusively for 10 years, which means…

My iPhone has been tracked 2,257,320 times. [Surely less, since not all of those trackers will have been running all those ten years – CA.]

…Analytics are far more popular than any other category of tracker

This is more than a little disturbing, because the defenders of trackers tend to claim that they exist for reasons that ultimately benefit the user. If an app we regularly use crashes, we can at least be reassured that the developer has probably been notified. Though the developer failed to catch the crash in testing, they get a second chance at finding it and fixing it with crash management.

Apparently advertising is more useful to users if it's personalised, as we're more likely to take an action like buying a product or downloading an app. That makes it sound a lot more useful to the advertisers if you ask me. I often hear the defense that if we have to see ads everywhere, they might as well be for things we want. I don't really have that need as a user, as I have plenty of ways of discovering new things without being targeted based on the most personal information I possess.

Instead of fixing crashes or providing targeted advertising, the majority of trackers on my iPhone are just plain old analytics. 

«
---
Karishma Vaswani:
»

In the battle for tech supremacy between the US and China, America has "dropped the ball" in funding for basic research, according to former Google chief executive Eric Schmidt.

And that's one of the key reasons why China has been able to catch up.

Dr Schmidt, who is currently the Chair of the US Department of Defense's innovation board, said he thinks the US is still ahead of China in tech innovation, for now. But that the gap is narrowing fast.

"There's a real focus in China around invention and new AI techniques," he told the BBC's Talking Business Asia programme. "In the race for publishing papers China has now caught up."

China displaced the US as the world's top research publisher in science and engineering in 2018, according to data from the World Economic Forum. That's significant because it shows how much China is focusing on research and development in comparison to the US.

For example, Chinese telecoms infrastructure giant Huawei spends as much as $20bn (£15.6bn) on research and development – one of the highest budgets in the world.

…Dr Schmidt blames the narrowing of the innovation gap between the US and China on the lack of funding in the US.

"For my whole life, the US has been the unquestioned leader of R&D," the former Google boss said. "Funding was the equivalent of 2% or so of GDP of the country. Recently R&D has fallen to a lower percentage number than was there before Sputnik."

According to Information Technology and Innovation Foundation, a US lobby group for technology, the US government now invests less in R&D compared to the size of the economy than it has in more than 60 years.

«
---
Heather Knight:
»

in supposedly environmentally conscious San Francisco, we're fighting over bike lanes and prohibiting through traffic on a tiny percentage of our streets. Even though making it easier and more appealing for people to leave their cars at home to walk, bike, carpool or take public transit instead is one of the main ways cities can fight climate change.

Two San Franciscans seem to have made it their pandemic hobby to file appeals for just about every emergency action taken by the San Francisco Municipal Transportation Agency in the past six months. They're gadfly David Pilpel and attorney Mary Miles, who says she represents the Coalition for Adequate Review. Yes, she's sticking up for CAR. They're both well known at City Hall for trying to thwart various projects over the years, and they're at it again.

Pilpel could not be reached for comment. Miles did not return a call, but did email copies of her appeal letters.

Because of them, the next phase of the Slow Streets program is on hold. That program shuts some streets to through traffic so people can walk and bike safely while social distancing. Temporary emergency changes to streets to make way for coronavirus testing sites and pop-up food pantries are also on hold.

Emergency transit lanes for buses operating at reduced capacity for social distancing to whisk essential workers to their jobs without getting stuck in traffic are on hold. A protected bike lane on Fell Street to alleviate the crush of exercisers in the crowded Panhandle is also being fought over.

«
I don't think the question is whether it's "fair" but whether it's "sensible". (It's not.)
unique link to this extract
---
Arash Massoudi, Robert Smith, and James Fontanella-Khan:
»

SoftBank is set to sell the UK's Arm Holdings to US chip company Nvidia for more than $40bn, just four years after its founder Masayoshi Son bought the chip designer and said it would be the linchpin for the future of the Japanese technology group.

Multiple people with direct knowledge of the matter said a cash-and-stock takeover of Arm by Nvidia may be announced as soon as Monday, and that SoftBank will become the largest shareholder in the US chip company.

The announcement of the deal hinged on SoftBank ending a messy dispute between Arm and the head of its China joint venture, Allen Wu, who earlier rebuffed an attempt to remove him and claimed legal control of the unit.

…Nvidia had a market valuation of roughly similar to that of Arm's at the time of the 2016 deal, but now trades with a market value of $300bn, or roughly 10 times the amount SoftBank paid in cash for Arm. By paying for a large portion of the deals with its own shares, it is also passing part of the risk of the transaction to SoftBank.

For Nvidia, which recently overtook Intel to become the world's most valuable chipmaker, the deal will further consolidate the US company's position at the centre of the semiconductor industry. The British chip designer's technology is starting to find broader applications beyond mobile devices, in data centres and personal computers including Apple's Macs.

Arm would transform Nvidia's product line-up, which until now has largely focused on the high end of the chips market. Its powerful graphics processors—which are designed to handle focused, data-intensive tasks—are typically sold to PC gamers, scientific researchers and developers of artificial intelligence and self-driving cars, as well as cryptocurrency miners.

«
Question is, could Arm have been made more valuable? Companies take its designs as they come. Should it crank out more? Then it becomes harder for chip foundries to meet the design needs. I've never quite understood how Arm makes itself more valuable. Obviously, if it doesn't come up with enough designs, the value will fall. But there must be some balance.
The British government won't get in the way of this, though.
---
»

I'd like to nominate cardboard humans watching baseball in a dystopian hell scape for photo of the year, thanks.

«
You can view the tweet. This is the picture. One must agree. There are no visible clocks, but the sun is clearly up (on the right hand side).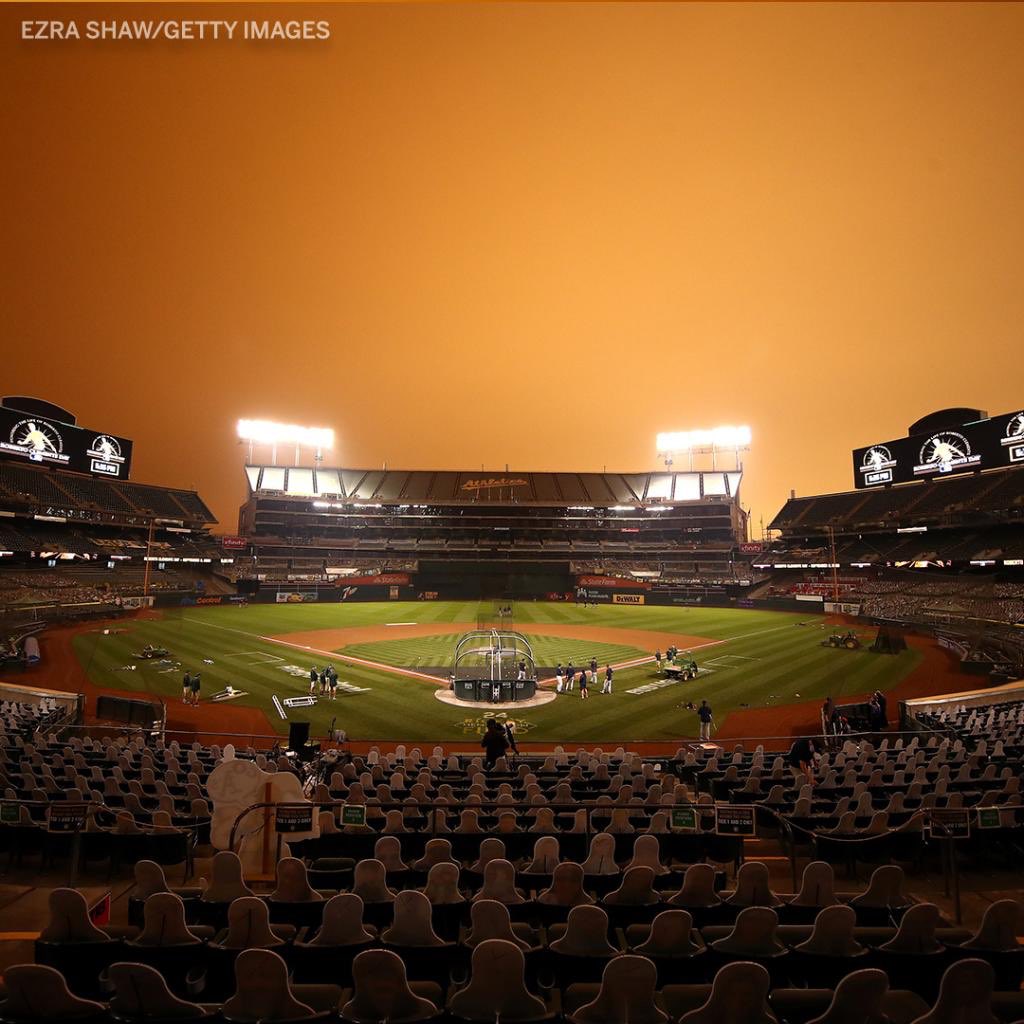 unique link to this extract
---
Gabriel Pogrund, Tom Calver and Caroline Wheeler:
»

The government's "world-beating" testing programme has a backlog of 185,000 swabs and is so overstretched that it is sending tests to laboratories in Italy and Germany, according to leaked documents.

A Department of Health and Social Care report marked "Official: sensitive" also confirms that most British laboratories are clearing fewer tests than their stated capacity, as they are hit by "chaos" in supply chains.

The government claims that it has capacity for 375,000 tests a day. However, the actual number of people being tested for the coronavirus stalled to just 437,000 people a week at the start of the month — equivalent to just 62,000 a day.

Throughout last week, people in Covid-19 hotspots across the north of England struggled to get tests and were told to travel hundreds of miles for an appointment. In Bolton, which has the highest infection rate in Britain of more than 180 weekly cases per 100,000 people, no tests were available on the government's online booking system between Thursday and Saturday.

…Gavin Williamson, the education secretary, pledged last week that testing would be available in schools so that pupils could return safely. But schools of any size are receiving just 10 test kits each, and are being told to use them only in "exceptional circumstances" and where the pupils could not otherwise access tests at home.

«
The UK government is obscuring this through data which doesn't clarify the number of test per person.
unique link to this extract
---
Lara O'Reilly on the merger that didn't happen between the two companies which provide most (though not quite all) of the "chumboxes" of junk links ("People Who Look Like Fish!") that you see beneath otherwise respectable stories in otherwise respectable publishers' sites:
»

Taboola and Outbrain have now clearly shifted back into their familiar position of old foes. Both companies now have the added benefit of having peeled back the curtain on one another's finances — even if only at a high level, given the disclosure rules surrounding mergers and acquisitions — said Richard Marques, CEO of Taboola and Outbrain rival Revcontent.

"The way this business works is if I'm a huge publisher, I get two to three [content recommendation] companies to start a bidding war against each other and sell the deal to the highest bidder," said Marques. "From a vendor side [it's about] how high can you go where you are as solvent as can be; there's a real art threading that needle to find as close to breakeven as possible."

«
Taboola and Outbrain get billions of clicks per month. (I know, I know.) They pay publishers handsomely. The deal fell apart because competition authorities reckoned if there was one big player rather than two competitors, the market would be worse served.
They're also responsible for undermining peoples' confidence in news sites: if you see one of their links on a site, your respect for that site goes down at once. And they used to be everywhere.
unique link to this extract
---
Errata, corrigenda and ai no corrida: none notified