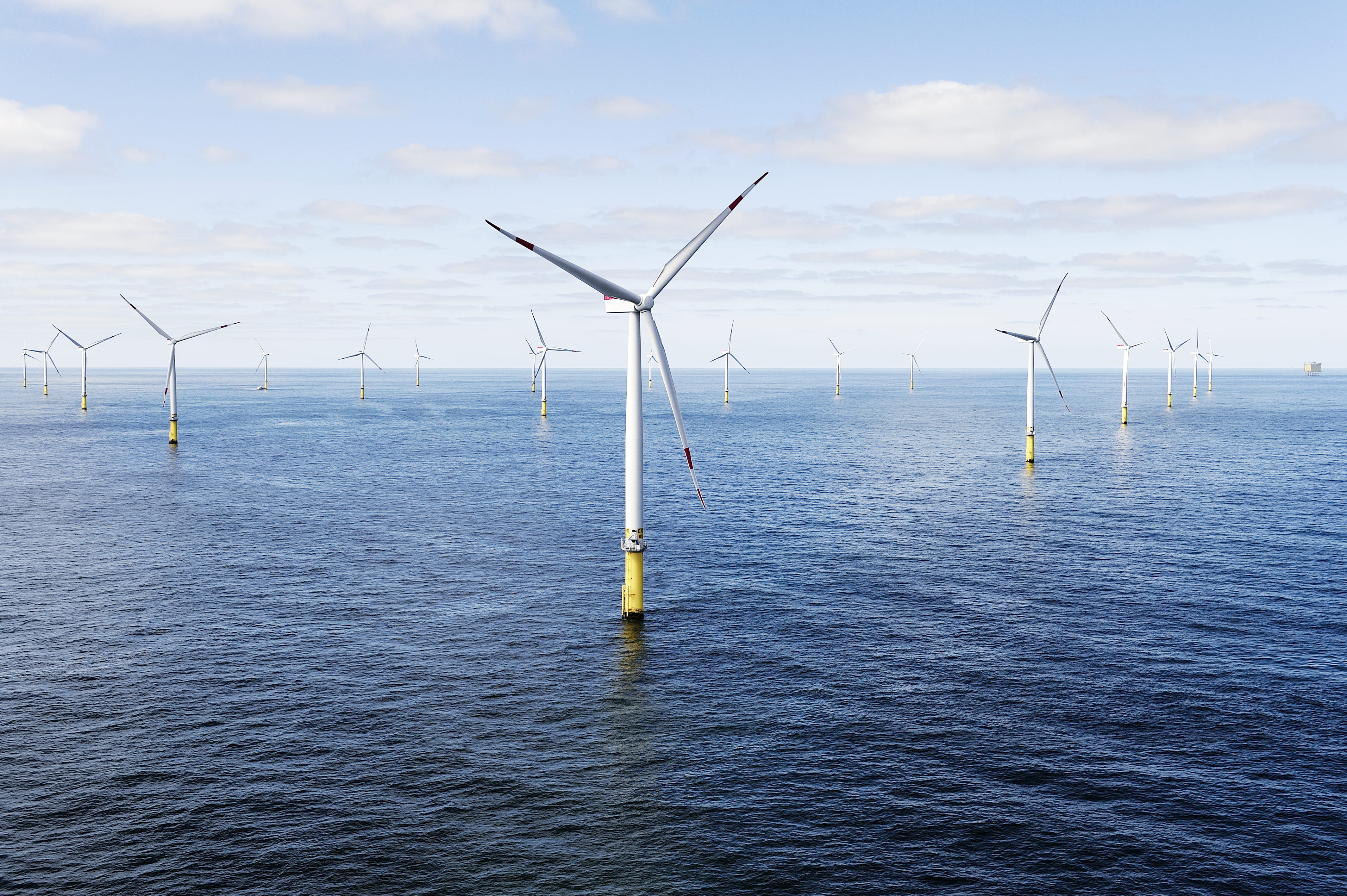 Publicity still of the Hornsea One offshore wind farm, via Ørsted. One third the output of a nuclear power plant, but cheaper and on time.
You can sign up to receive each day's Start Up post by email. You'll need to click a confirmation link, so no spam.
A selection of 9 links for you. Use them wisely. I'm @charlesarthur on Twitter. Observations and links welcome.
Nicola Davis:
»

Artificial intelligence is on a par with human experts when it comes to making medical diagnoses based on images, a review has found.

The potential for artificial intelligence in healthcare has caused excitement, with advocates saying it will ease the strain on resources, free up time for doctor-patient interactions and even aid the development of tailored treatment. Last month the government announced £250m of funding for a new NHS artificial intelligence laboratory.

However, experts have warned the latest findings are based on a small number of studies, since the field is littered with poor-quality research.

One burgeoning application is the use of AI in interpreting medical images – a field that relies on deep learning, a sophisticated form of machine learning in which a series of labelled images are fed into algorithms that pick out features within them and learn how to classify similar images. This approach has shown promise in diagnosis of diseases from cancers to eye conditions.

However questions remain about how such deep learning systems measure up to human skills. Now researchers say they have conducted the first comprehensive review of published studies on the issue, and found humans and machines are on a par.

Prof Alastair Denniston, at the University Hospitals Birmingham NHS foundation trust and a co-author of the study, said the results were encouraging but the study was a reality check for some of the hype about AI.

Dr Xiaoxuan Liu, the lead author of the study and from the same NHS trust, agreed. "There are a lot of headlines about AI outperforming humans, but our message is that it can at best be equivalent," she said.

«
"Can at best be equivalent" isn't quite the message that those pushing the Singularity were hoping for, one feels. Then again, this is after only seven years. The problem is always one of trust: how do you query the process by which a decision was reached?
unique link to this extract
---
Hanna Ziady:
»

The world's largest offshore wind farm is taking shape off the east coast of Britain, a landmark project that demonstrates one way to combat climate change at scale.

Located 120 kilometers (75 miles) off England's Yorkshire coast, Hornsea One will produce enough energy [1.2 gigawatts, twice as large as the next-biggest which is in the Irish Sea] to supply 1 million UK homes with clean electricity when it is completed in 2020.

The project spans an area that's bigger than the Maldives or Malta, and is located farther out to sea than any other wind farm. It consists of 174 seven-megawatt wind turbines that are each 100 metres tall. The blades have a circumference of 75 meters, and cover an area bigger than the London Eye observation wheel as they turn.

Just a single rotation of one of the turbines can power the average home for an entire day, according to Stefan Hoonings, senior project manager at Orsted (DOGEF), the Danish energy company that built the farm.

The project will take the United Kingdom closer to hitting its target of deriving a third of the country's electricity from offshore wind by 2030.

«
Meanwhile the new 3.2GW nuclear plant at Hinkley Point C looks likely to cost an extra £2.9bn (to £22bn) and be late: had been promised online in 2017, now looks like 2025. Hornsea One, cost about £4.2bn, and which has delivered on time, is part of four such which could generate a total of 6GW.
unique link to this extract
---
Jason Tsai:
»

The global shipments of smartwatches in 2019 are estimated to total around 62.63 million units, according to the latest tracking analysis from the research firm TrendForce. Looking ahead to 2020, smartwatch sales will benefit from the lower prices of the earlier versions of the Apple Watch devices and the releases of new smartwatch models from other branded device manufacturers. TrendForce forecasts that the global smartphone shipments in 2020 will grow by 28.6% YoY to around 80.55 million units. The total shipments of the Apple Watch devices for the same year are also forecasted to grow by 21.8% YoY to around 34 million units.

"The strong demand for the Apple Watch has been the chief growth driver of the whole smartwatch market," said Jason Tsai, TrendForce analyst for wearable devices. Tsai pointed out that Apple adjusted the prices of the Series 1 models in conjunction with the launch of the Series 2 models. The move helped galvanize the overall sales of the Apple Watch devices.

"Apple's success in the smartwatch market is based on an effective pricing strategy and a proactive approach to the development of new products," Tsai added. "The price cut for the Series 1 models, in particular, has been a significant help in boosting shipments."

The upcoming release of the Series 5 models will again accompany by a price reduction for the Series 3 models. Furthermore, new products and perhaps new brands will soon be entering the market.

«
"Perhaps new brands". Well, maybe. But it's not one where they're making much, if any, money. Same as tablets.
unique link to this extract
---
Manuel Vonau:
»

while protocols such as 5G, Bluetooth, and Wi-Fi exist for IoT devices, they can become complicated and expensive pretty fast and only go so far. A specific network for low-cost, low-bandwidth connections is missing for devices that would measure their battery life in years, not days if they could use low-energy standards. By transmitting data on the 900MHz spectrum, Amazon Sidewalk aims to be the answer to this problem.

Amazon envisions to use this protocol for water sensors in your garden, even if they're far removed from your Wi-Fi's range, or for your mailbox, letting you know when your important letter has been delivered. Since the devices establish a peer-to-peer network and offer great range, cities should quickly be blanketed with coverage once Amazon starts offering products.

The first reference design is going to be the Ring Fetch. It's a dog tracker that uses Sidewalk and sends you notifications when your dog leaves a geofenced perimeter. There is no word on exact hardware specifications, battery life, or size yet, but more details will be available next year.

«
Sidewalk is a mesh network technology; Amazon says in its tests it sent 700 Sidewalk-enabled devices to Ring employees, family and friends and "in just three weeks had the sprawling, densely populated L.A. Basin fully covered".
Hmm. I'd like to see a bit more detail on what "fully covered" means, and what geographical area they really covered. The LA Basin can mean 3.8m people (Greater LA), or 12.8m (LA metropolitan) or 18.1 (larger metropolitan region). But low-power IoT with range is always welcome. Probably more welcome than Google's Sidewalk, which hasn't won many friends.
unique link to this extract
---
Jonathan Goldberg:
»

Yes, 5G is coming and data rates will improve, but we, the mobile industry, still have a lot of work to do. We could regale you with litanies of woe about roaming and hand-offs, or belabor the small cell backhaul density logjam. But perhaps the best example of roadblocks to 5G is much easier to grasp: heat.

5G phones get hot. Really hot. Probably not hot enough to ignite your battery (probably), but enough to generate a definite burning sensation in your pants pockets. At Mobile World Congress in February, we spoke with an engineer from Sony who was demo'ing a phone (behind glass) that was clocking 1 Gbps speeds. Wow, fast. We asked the engineer why it was not going faster and he said "It overheats." A good solid answer, from a nuts-and-bolts-and-antenna person. We will wage any amount that at next year's show, no one on the floor will be as open about this problem.

The big improvement in data rates for 5G will only come with mmWave radios. This is a whole new spectrum band that allows for really high data rates (again, let's set aside the whole densification issue for now). The trouble is that mmWave radios generate a lot of heat. To greatly oversimplify, mmWave frequencies are pretty close to microwave frequencies, as in the thing we use to reheat our lunches.

From some of our very recent industry conversations we know that the handset industry is using a tried-and-tested method for dealing with this problem – ignoring it and hoping it goes away. The whole issue strikes us as one of those issues where middle management really does not want to raise the subject with senior management who have wrapped themselves so tightly around the 5G flagpole. "Uh boss, your pants are literally on fire."

«
Don't know about you, but I honestly don't see the point in 5G. Like, at all. Improve coverage everywhere first, perhaps? Who actually needs 1Gbps when mobile at the moment? Isn't whatever that application is a thing that we'll only have the terminals for in five to ten years? At present, the biggest use of 5G appears to be demonstrating that you have 5G speeds. I've seen nobody who has been able to do anything better with it.
unique link to this extract
---
Hadlee Simons:
»

You don't have to pay to get basic apps such as calculators and QR code scanners on the Play Store, but Google has pulled some basic apps for exploiting its trial period system.

Sophos discovered over a dozen apps that provide very rudimentary functionality, such as QR code scanning, photo editing, and GIF creation. But the security firm found that their sole purpose was actually to over-charge users.

According to the security firm, these so-called fleeceware apps take advantage of the Play Store's trial period functionality in order to charge unsuspecting users. Sophos notes that once the app's trial period ends, users are often charged an exorbitant subscription fee, ranging from €105 to €220 ($115 to $241).

The company says these developers routinely charge users, even if you've uninstalled the app before the end of the trial period.

«
So the subscription scammers are there on Google Play as well as the App Store. "Fleeceware" is a lovely portmanteau. Kudos to Google for removing them. (I would have linked to the ZDNet original, but it was too wordy.)
unique link to this extract
---
Dan Goodin:
»

Attackers from a group dubbed Poison Carp used one-click exploits and convincing social engineering to target iOS and Android phones belonging to Tibetan groups in a six-month campaign, researchers said. The attacks used mobile platforms to achieve a major escalation of the decade-long espionage hacks threatening the embattled religious community, researchers said.

The report was published on Tuesday by Citizen Lab, a group at the University of Toronto's Munk School that researches hacks on activists, ethnic groups, and others. The report said the attackers posed as New York Times journalists, Amnesty International researchers, and others to engage in conversations over the WhatsApp messenger with individuals from the Private Office of His Holiness the Dalai Lama, the Central Tibetan Administration, the Tibetan Parliament, and Tibetan human rights groups. In the course of the conversation, the attackers would include links to websites that hosted "one-click" exploits—meaning they required only a single click to infect vulnerable phones.

None of the attacks Citizen Lab observed was successful, because the vulnerabilities exploited had already been patched on the iOS and Android devices that were attacked. Still, the attackers succeeded in getting eight of the 15 people they targeted to open malicious links, and bit.ly-shortened attack pages targeting iPhone users were clicked on 140 times. The research and coordination that went into bringing so many targeted people to the brink of exploitation suggest that the attackers behind the campaign—which ran from November 2018 to last May—were skilled and well-organized.

«
This is separate from the attack reported by Google Project Zero to target Uighyur Muslims, also by China, but has lots of the same malware families. Citizen Lab says the Android malware used "hadn't previously been documented" (bit failed nonetheless). Read Goodin's writeup (or the CL original): this was very sophisticated.
unique link to this extract
---
Cory Weinberg:
»

The three business WeWork will look to sell are Managed by Q, which WeWork bought in May; Conductor, which WeWork bought last spring; and Meetup, which WeWork bought in late 2017. WeWork spent nearly $500m combined in cash and stock for the three firms, according to its IPO filing. But that price reflected what the value then put on WeWork's stock, which is likely to have come down since then. WeWork in recent weeks had reportedly slashed its proposed IPO valuation to as low as $15bn, from its last private fundraising valuation of $47bn.

The three companies have revenue in the "hundreds of millions" annually, one of the people said, but lose money. The total expenses of the three companies—along with another acquired firm, Flatiron School—was $81m in the first half of the year, according to WeWork's IPO filing. That only includes a portion of Managed by Q's expenses because the deal was completed in May.

«
And so the great unwinding begins.
unique link to this extract
---
»

Following the design of commercial batteries, this new type of battery is built in layers like a sandwich. However, it marks the first time that researchers have used flexible components to keep the whole battery bendable and stretchable. "To date, no one has employed exclusively flexible components as systematically as we have in creating a lithium-ion battery," Markus Niederberger [professor for multifunctional materials at ETH Zurich] says.

The two current collectors for the anode and the cathode consist of bendable polymer composite that contains electrically conductive carbon and that also serves as the outer shell. On the interior surface of the composite, the researchers applied a thin layer of micronsized silver flakes. Due to the way the flakes overlap like roof tiles, they don't lose contact with one another when the elastomer is stretched. This guarantees the conductivity of the current collector even if it is subjected to extensive stretching. And in the event that the silver flakes do in fact lose contact with each other, the electrical current can still flow through the carbon-containing composite, albeit more weakly…

…More and more applications for a battery like this are emerging every day. Well-known manufacturers of mobile phones are vying with each other to produce devices with foldable screens. Other possibilities include rollable displays for computers, smartwatches and tablets, or functional textiles that contain bendable electronics – and all of these require a flexible power supply. "For instance, you could sew our battery right into the clothing," Niederberger says. What's important is, in the event of battery leakage, to ensure that the liquids that come out cause no damage. This is where the team's electrolyte offers a considerable advantage.

However, Niederberger stresses that more research is necessary to optimise the flexible battery before they consider commercialising it.

«
Of course gadget sites are saying "ooh, foldable phones more foldable!" but I'd say the application is much more in clothing, or devices that have to be shaped or flexible. Smartphones, even foldable ones, are a solved problem, relatively.
unique link to this extract
---
Errata, corrigenda and ai no corrida: none notified