Your mouse movements can distinguish you – and machine learning will pick it up. Photo by 4lfie on Flickr.
You can now sign up to receive each day's Start Up post by email. You'll need to click a confirmation link, so no spam.
A selection of 12 links for you. Yeah, it's Monday, deal with it. I'm @charlesarthur on Twitter. Observations and links welcome.
»

Will Strafach, the president of Sudo Security Group, analyzed a version of Uber's app from late 2014 and discovered code that he says reveals how Uber tracked its users' devices.

"They were dynamically loading IOKit.framework (a private framework), then dynamically loading some symbols from it to iterate through the device registry (also very much forbidden). They have code to nab a few things from the registry, but the only persistent identifier they actually use appears to be the device Serial Number," Strafach told TechCrunch in an email. "I believe that in iOS 9 and beyond, this is blocked by the iOS sandbox. Just to clarify, this also shows the initial concern of 'tracking after uninstall' was bad phrasing. The case here is tracking between uninstall/reinstall, which is still a privacy violation as Apple forbids this kind of tracking (that is why they removed the APIs for getting device UDID)."

In order to prevent Apple engineers from discovering the fingerprinting, Uber allegedly geofenced Apple's Cupertino headquarters to hide the code used in the process. But Apple engineers based in other offices discovered the trick, according to the New York Times and confirmed by TechCrunch, leading Cook to summon Kalanick to his office in early 2015…

…Uber told TechCrunch that it still uses a form of device fingerprinting in order to detect fraudulent behavior. If a device has been associated with fraud in the past, a new sign-up from that device should raise a red flag, an Uber spokesperson said. Uber suggested that the practice of fingerprinting was modified to comply with Apple's rules rather than discontinued altogether.

"We absolutely do not track individual users or their location if they've deleted the app. As the New York Times story notes towards the very end, this is a typical way to prevent fraudsters from loading Uber onto a stolen phone, putting in a stolen credit card, taking an expensive ride and then wiping the phone—over and over again.

«
---
»

A blindness to boundaries is not uncommon for Silicon Valley entrepreneurs. But in Mr. Kalanick, that led to a pattern of repeatedly going too far at Uber, including the duplicity with Apple [where it had monitored phones even after its app was deleted – a trick that led Tim Cook to summon him and warn him Uber could be thrown out of the App Store], sabotaging competitors and allowing the company to use a secret tool called Greyball to trick some law enforcement agencies.

That quality also extended to his personal life, where Mr. Kalanick mixes with celebrities like Jay Z and businessmen including President Trump's chief economic adviser, Gary D. Cohn. But it has alienated some Uber executives, employees and advisers. Mr. Kalanick, with salt-and-pepper hair, a fast-paced walk and an iPhone practically embedded in his hand, is described by friends as more at ease with data and numbers (some consider him a math savant) than with people.

Uber is grappling with the fallout. For the last few months, the company has been reeling from allegations of a machismo-fueled workplace where managers routinely overstepped verbally, physically and sometimes sexually with employees. Mr. Kalanick compounded that image by engaging in a shouting match with an Uber driver in February, an incident recorded by the driver and then leaked online. (Mr. Kalanick now has a private driver.)

The damage has been extensive. Uber's detractors have started a grass-roots campaign with the hashtag #deleteUber. Executives have streamed out. Some Uber investors have openly criticized the company.

Mr. Kalanick's leadership is at a precarious point.

«
Plenty of examples in this well-sourced piece about Kalanick breaking the rules multiple times, right from his very first startup (which wasn't Uber).
link to this extract
---
Holly Shakya and Nicholas Christakis:
»

We investigated the associations of Facebook activity and real-world social network activity with self-reported physical health, self-reported mental health, self-reported life satisfaction, and body mass index.

Our results showed that overall, the use of Facebook was negatively associated with well-being. For example, a 1-standard-deviation increase in "likes clicked" (clicking "like" on someone else's content), "links clicked" (clicking a link to another site or article), or "status updates" (updating one's own Facebook status) was associated with a decrease of 5%–8% of a standard deviation in self-reported mental health.

These associations were robust to multivariate cross-sectional analyses, as well as to 2-wave prospective analyses. The negative associations of Facebook use were comparable to or greater in magnitude than the positive impact of offline interactions, which suggests a possible tradeoff between offline and online relationships.

«
Happy Monday everyone!
link to this extract
---
»

More than a million people have now used our Wolfram|Alpha Personal Analytics for Facebook. And as part of our latest update, in addition to collecting some anonymized statistics, we launched a Data Donor program that allows people to contribute detailed data to us for research purposes.

A few weeks ago we decided to start analyzing all this data. And I have to say that if nothing else it's been a terrific example of the power of Mathematica and the Wolfram Language for doing data science. (It'll also be good fodder for the Data Science course I'm starting to create.)

We'd always planned to use the data we collect to enhance our Personal Analytics system. But I couldn't resist also trying to do some basic science with it.

«
Lots of graphs, especially about what topics that people discuss, gradated by age.
link to this extract
---
»

Collective jaywalking is so common in Chinese cities that netizens have dubbed it 'the Chinese style of crossing the road.' In an attempt to fight the phenomenon, Shenzhen police recently installed new facial recognition technology at an intersection in Futian District.

The setup, which includes a electronic display board as well as cameras, began operation at the intersection of Xinzhou Lu and Lianhua Lu on April 15. The location has long been popular among pedestrians, in large part because it's close to Shenzhen's Peking University Hospital.

The 'intelligent pedestrian jaywalking evidence collecting system' operates 24 hours a day. It captures images of jaywalkers' faces, which then go on the display board for all to see. The system also saves the pictures, which theoretically allows it to recognize repeat offenders over time and even search for their identities through linkups to other government databases.

«
I'd suspect there's less real facial recognition and more shaming by putting pictures up going on here.
link to this extract
---
»

There has been no end of attempts to turn smartphones into full-blown computers. Last year's Kickstarter sensation, the Superbook, still hasn't shipped. Windows Continuum didn't save Windows Phone. Samsung DeX seems like a fun novelty. And who can forget Motorola's Lapdock?

The Mirabook is another Indiegogo campaign in that vein, but it offers some flexibility that might make it an exception to the rule of failure — if it ever ships, of course. The laptop has a 1080p 13.3-inch display, a keyboard, a yet-to-be-determined battery (a 24-hour battery life is listed as a "stretch goal" at the $3m funding mark), and it plugs into your phone over USB-C for brains. A touchscreen and backlit keyboard are also potential additions.

«
It has passed its (unambitious?) $50,000 goal, with $70k from 358 backers – that's about $200 each on average. Also: pointless. We can store everything we need in the cloud now, and log in to any convenient system, or just carry a tablet.
link to this extract
---
»

why is this meltdown happening while wages for low-income workers are rising faster than any time since the 1990s?

First, although rising wages are obviously great for workers and the overall economy, they can be difficult for low-margin companies that rely on cheap labor—like retail stores. Cashiers and retail salespeople are the two largest job categories in the country, with more than 8 million workers between them, and the median income for both occupations is less than $25,000 a year. But recently, new minimum-wage laws and a tight labor market have pushed up wages for the poorest workers, squeezing retailers who are already under pressure from Amazon.

Second, clothing stores have declined as consumers shifted their spending away from clothes toward traveling and dining out. Before the Great Recession, people bought a lot of stuff, like homes, furniture, cars, and clothes, as retail grew dramatically in the 1990s. But something big has changed. Spending on clothes is down—its share of total consumer spending has declined by 20% this century.

What's up? Travel is booming. Hotel occupancy is booming. Domestic airlines have flown more passengers each year since 2010, and last year U.S. airlines set a record, with 823 million passengers. The rise of restaurants is even more dramatic.

«
---
Max Chafkin and Ian King with an in-depth look which covers all sorts of elements (including hafnium – which "doesn't occur in nature"):
»

Shrinking the transistors is only part of the challenge. Another is managing an ever more complex array of interconnects, the crisscrossing filaments that link the transistors to one another. The Xeon features 13 layers of copper wires, some thinner than a single virus, made by etching tiny lines into an insulating glass and then depositing metal in the slots. Whereas transistors have tended to get more efficient as they've shrunk, smaller wires by their nature don't. The smaller they are, the less current they carry.

The man in charge of the Xeon E5's wiring is Kevin Fischer, a midlevel Intel engineer who sat down in his Oregon lab in early 2009 with a simple goal: Fix the conductivity of two of the most densely packed layers of wires, known as Metal 4 and Metal 6. Fischer, 45, who has a Ph.D. in electrical engineering from the University of Wisconsin at Madison, started the way Intel researchers usually do, by scouring the academic literature. Intel already used copper, one of the most conductive metals, so he decided to focus on improving the insulators, or dielectrics, which tend to slow down the current moving through the wires. One option would be to use new insulators that are spongier and thus create less drag. But Fischer suggested replacing the glass with nothing at all. "Air is the ultimate dielectric," he says, as if stunned by the elegance of his solution. The idea worked. Metal layers 4 and 6 now move 10% faster.

«
Plenty more like that.
link to this extract
---
»

Over time we have observed that the robots.txt files that are geared toward search engine crawlers do not necessarily serve our archival purposes. Internet Archive's goal is to create complete "snapshots" of web pages, including the duplicate content and the large versions of files.

We have also seen an upsurge of the use of robots.txt files to remove entire domains from search engines when they transition from a live web site into a parked domain, which has historically also removed the entire domain from view in the Wayback Machine. In other words, a site goes out of business and then the parked domain is "blocked" from search engines and no one can look at the history of that site in the Wayback Machine anymore. We receive inquiries and complaints on these "disappeared" sites almost daily.

A few months ago we stopped referring to robots.txt files on U.S. government and military web sites for both crawling and displaying web pages (though we respond to removal requests sent to info@archive.org). As we have moved towards broader access it has not caused problems, which we take as a good sign. We are now looking to do this more broadly.  

We see the future of web archiving relying less on robots.txt file declarations geared toward search engines, and more on representing the web as it really was, and is, from a user's perspective.

«
This initially looks like good news. But others have pointed out that if you ignore robots.txt, you can be accused (it much be a stretch) of denial of service; and that it's not good. So this seems to hang more in the balance than the IA's post might suggest.
link to this extract
---
»

Huawei CBG (Consumer Business Group) CEO Richard Yu reached out on social network Weibo to address the issue, while also commenting on our biggest gripe with the P10, its lack of oleophobic coating on the display.

On memory speeds, Yu blamed a "serious shortage" of faster UFS 2.0 and 2.1 chips in the supply chain, which apparently led to Huawei having to fall back on slower, but more readily available eMMC 5.1 memory in some units. Now, it's true that Huawei never included UFS on the P10's spec sheet. However, customers could be forgiven for assuming the P10's specs would line up with the Mate 9, a phone which shares the same Kirin 960 platform and was promoted as using speedy UFS 2.1 storage.

Yu insists that real-world performance isn't impacted by the use of slower memory in some P10s, saying "a good real-life performance and experience" is maintained thanks to Huawei's hardware and software optimizations.

As for why the P10 doesn't have an oleophobic coating on the display — the smudge-resistant layer used in all other flagship phones to deter the buildup of smudges and grease — well, apparently a combination of Gorilla Glass 5 and static electricity is to blame. According to the Engadget report, Yu said that the touch panel in the phone's Gorilla Glass 5 display had problems with the original oleophobic coating technique, where static buildup would interfere with the touch sensor.

«
But don't worry! Newer batches will have the coating, and you can get one on your already-bought P10 by visiting any Huawei store. (Operational note: all Huawei stores are based in China.)
link to this extract
---
Gleb Esman is in charge of anti-fraud products, on an experiment to track mouse movements to distinguish users on a finance portal:
»

[The] Second task was more challenging. We wanted to determine how suitable deep learning approach may be in recognizing the individual user by his/her mouse movements.

We also added extra difficulties to this task to make it more realistic:
– The data set size for the task was extremely small: we had only 360(180+180 per class) images for training + 180(90+90 per class) images for validation. In the world of deep learning – this is *extremely* small dataset.
– We had one set of 180 training images representing mouse activity of a specific user – a portal member. Another set of 180 images belong to other people.
– "Other" people were also members of a portal.
– "Other" people exhibited very similar activity and behavior across the portal.
– "Other" people were using devices with dimensions that are similar to the first member – which means physical activity with mouse input device was as close as possible to the first member.

With all these conditions our neural network was facing very challenging task of recognizing an individual human only by his/her mouse movements after training on a very limited data set to begin with.

«
Got to 78% validation almost immediately. I get a sense that our machines will be monitoring us all the time in the future.
link to this extract
---
Anna Hirtenstein and Andrew Reierson:
»

The U.K. is headed for its first full day without burning coal to make electricity since the Industrial Revolution more than a century ago, according to grid operator National Grid Plc.

"Great Britain has never had a continuous 24 hour period without #coal. Today is looking like it could be the first," the National Grid control room's Twitter account posted on Friday.

The U.K. was an early adopter of renewable energy and has more offshore wind turbines installed than any other country, as well as fields of solar panels with as much capacity at seven nuclear reactors. The government aims to switch off all coal plants by 2025.

Neighboring countries have similar agendas and energy companies across the continent closing and converting coal-burners at a record pace. Europe's use of the most polluting fossil fuel is drying up quicker than many expected.

"A decade ago, a day without coal would have been unimaginable, and in 10 years' time our energy system will have radically transformed again," Hannah Martin, head of energy at Greenpeace U.K., said in an email.

«
The UK has far more coal plants and generation than other European countries: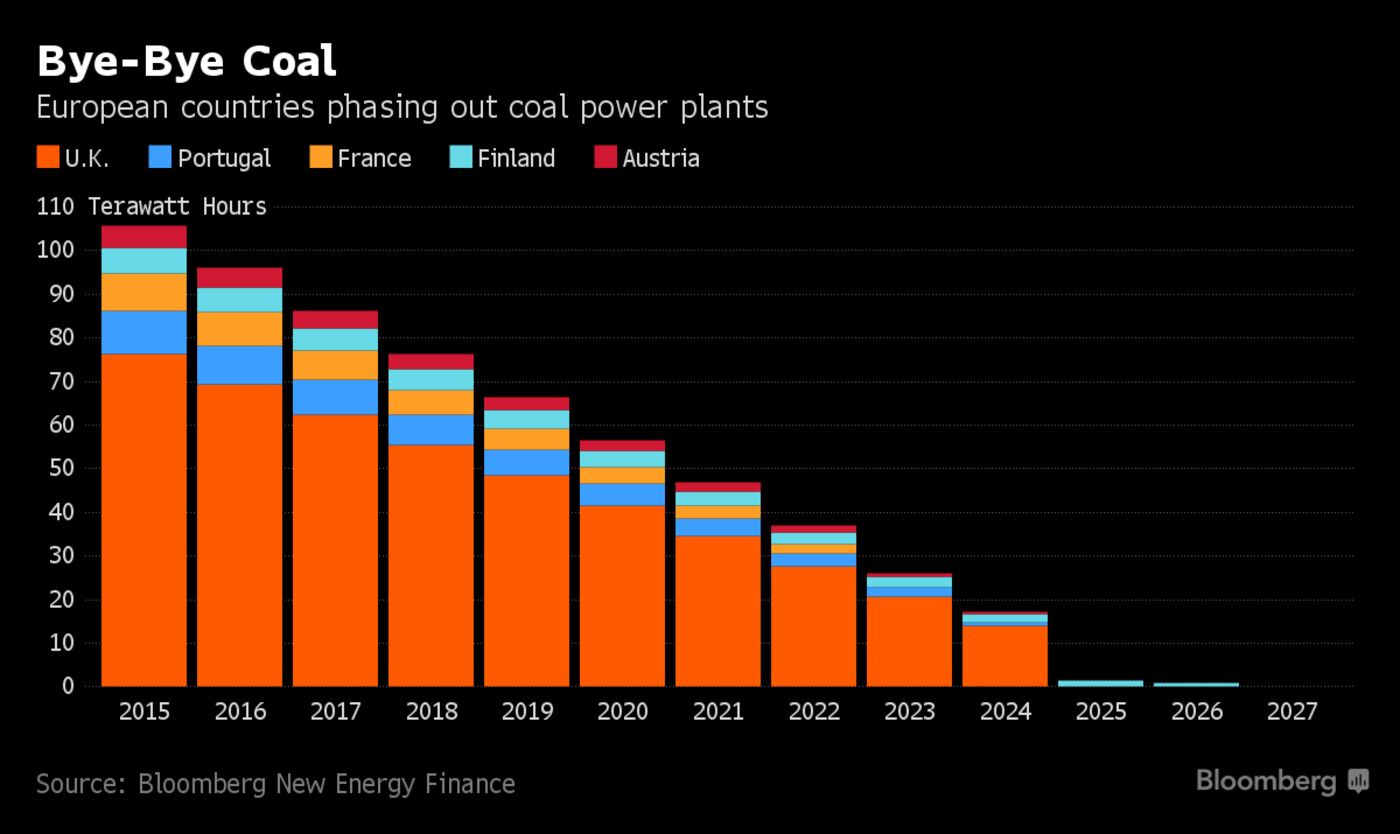 link to this extract
---
Errata, corrigenda and ai no corrida: none notified