Samsung is doing a remake of its fairly successful total recall, this time with washing machines. Photo by nan palmero on Flickr.
---
I'll be at Web Summit, the Glastonbury of Tech (except it's in Lisbon, Portugal) on Tuesday and Wednesday. I hope that won't interfere with The Overspill. If you're there and would like to meet, I'm always on Twitter.
---
You can now sign up to receive each day's Start Up post by email. You'll need to click a confirmation link, so no spam.
A selection of 12 links for you. Sufficient unto the day. I'm charlesarthur on Twitter. Observations and links welcome.
»from a historical standpoint, if AI or VR/AR succeeds in disrupting tech, it is actually very unlikely that Google, Microsoft of Facebook would win in the end. These companies are in the exact same positions regarding AI and VR/AR as were Blackberry and Palm prior to iPhone, or as were Yahoo, Lycos and others were prior to Google Search. They have invested heavily into research and also into developing the early market. However, they have not yet discovered the formula that would propel them into the mass market.

No matter how unlikely it may seem today, history is actually quite unequivocal on this. The large and established companies that pioneer an early market, do not reap the rewards when disruption happens and the market goes mainstream. The odds are against Google for winning in AI, and the odds are against Microsoft and Facebook for winning in AR/VR (assuming though that AI and AR/VR do end up being disruptive technologies and not simply sustaining).

Although it is almost impossible to predict what will happen, I will just end this post highlighting a couple scenarios under which the Google might find itself vulnerable for illustrative purposes only.

«
The scenarios are interesting – you'll probably be able to think of more. The second he suggests is a low-end disruption. But Google was an orthogonal disruption to Microsoft (and Apple); it built on something they enabled, but then challenged them.
The point though that Annexers do less well than Late Natives is relevant.
link to this extract
---
»Scroll through the constellation of fear mongering sites that orbit conservative media and try to recognize the America you know in those stories. It makes sense that Trump supporters can believe so wholeheartedly that the country is on the verge of collapse.

In the context of this fear, particularly for many who served in the military, measured tones and caution seem like political double-speak and cowardice. They know there is a real enemy. IEDs do not kill in shades of grey. They have seen their friends die to take cities they now see filled with black flags on CNN.

These and other concerns with legitimate roots turn some of my friends and family towards Trump's aggressive stance and anti-establishment voice, even as they are fully cognizant of his massive personal flaws.

But what they don't see is how tenuous it all is. I've spent my life since Iraq in and out of conflict zones and fragile states. I've seen educated, wealthy communities descend overnight into ethnic cleansing. I've seen family men turned into butchers. I've seen a charismatic reformed warlord, surrounded by capable technical advisors, steer his country irretrievably into the abyss.

I was traveling across Mali, Cote d'Ivoire, and Sierra Leone when Trump escalated his comments suggesting that he'd try to put Hillary Clinton in jail and doubled down on his assertion of "rigged elections." People there knew exactly what he meant, because they have heard that rhetoric before. This is the language of lands without strong institutions, bereft of the mutual trust that glues our democracy together. It's the language of civil wars.

«
Here's my limited take. The US is reaping the whirlwind of a social and taxation system which insists that there's no benefit in helping everyone; where health care isn't a public benefit, but a private burden; that being rich makes you better than someone who is poor; having a vote seems to make no difference; and anyone can own a gun. Pull on that thread.
link to this extract
---
Jeff Dunn puts them through a ton of tests in which each does OK-ish, and concludes:
»If the hodgepodge of results above didn't make it clear, none of these things are at a place I could comfortably call "good." There is a ton of work to be done.

The problems here are large and sweeping:

• Each assistant still feels like a fragile, thinly veiled web of loosely connected services — because that's what they are. It's almost impossible to tell when one of them won't be able to do the thing you asked.

• You have to be OK giving up your location and loads of personal data to get the most out of them.

• There are numerous instances where using a web browser is simply faster for doing fundamental tasks. There is a reason most people use their Echo for the simplest of functions — it's not worth slowing down your workflow to do anything else.

• Each one is still wildly finicky when it comes to phrasing. They all think too much in black and white; one misplaced or forgotten word is often enough to discard an entire request.

• It's incredibly uncomfortable to speak to an inanimate thing in public.

• In Google Assistant's case, normalizing the need to call on a brand ("OK Google") whenever you need a hand is Orwellian.

«
---
Amy Schade, Yunnuo Cheng, and Samyukta Sherugar:
»Since 1996, we have been compiling lists of the top 10 mistakes in web design. This year, we completed a large-scale usability study with 215 participants in the United States and United Kingdom to see what today's web-design mistakes are. After analyzing results across 43 sites that ranged from small, local businesses to entertainment sites to nonprofits to global organizations, we identified 10 of the most common and most damaging web-design mistakes that hurt our users. (And by hurting their users, these design flaws most definitely also hurt the websites' business metrics.)

The big news? None of the top issues today is new or surprising. Web design has come a long way. But these persistent problems remain. Modern design patterns and aesthetics change, but underlying user needs remain the same. Users still need to find information, be able to read it, and know what to click and where it leads.

«
It is worth looking at the examples and trying to think of your own (or even trying your own site). It is scary how long some faults can last.
link to this extract
---
»Facebook CEO Mark Zuckerberg… hired Regina Dugan to lead Building 8. Dugan is the former head of both the US Department of Defense's DARPA research arm, and Google's Advanced Technologies and Projects (ATAP) research lab.

Zuckerberg suggested, in an April 2016 blog post, that Building 8 would pursue "augmented and virtual reality, artificial intelligence, connectivity and other important areas" — which sounds pretty sciencey, to be sure.

But the division's job postings and recent hires tell a slightly different story – beginning with the Building 8 mission statement you'll find at the top of each job post.

Here's the mission statement in full:

»Building 8 brings together world-class experts to develop and ship groundbreaking products at the intersection of hardware, software, and content. We have a clear mandate to ship products at scale. In particular, seemingly impossible products that define new categories that advance Facebook's mission of connecting the world. The B8 team will apply DARPA-style breakthrough development at the intersection of ambitious science and product development. It will operate on aggressive, fixed timelines, with extensive use of partnerships in universities, small and large businesses.«

Building 8 is all about shipping hardware, it seems. And could "seemingly impossible products" include an ambitious modular phone like Ara?

«
You misspelt "a stupid modular phone like Ara". Not clear why Facebook has chosen to duplicate the not-yet-successful Google X – or perhaps it has better focus.
link to this extract
---
»As of today, nearly 85% of all recalled Galaxy Note7 devices have been replaced through the U.S. Note7 Refund and Exchange Program, with the majority of the participants opting to receive another Samsung smartphone.

We remain focused on collecting the outstanding Galaxy Note7 phones in the market. To further drive participation, we will be releasing a software update in the coming days that will limit the phone's ability to charge beyond 60%, as well as issue a reminder pop-up notification every time a consumer charges, reboots or turns on the screen of their Note7 device.

«
I can see a future strand of fiction which starts "I'd been on the run now with my Note7 for fifteen years, and it was beginning to take its toll."
link to this extract
---
»Last week Apple replaced physical hardware function keys on its new laptops with a touch sensitive OLED strip, the "Touch Bar". This isn't an original idea, and it has failed spectacularly when introduced to the market.

Just two years ago Lenovo tried this with its second generation Yoga. Users hated it, and the change wasn't repeated for 2015.

"We'd been having the same thoughts," senior technologist at Lenovo Graham Thomas told us. "People use those function keys for different things or not at all." The Optimus OLED keyboard made a big splash, introducing adaptive concept in 2006… then didn't appear for two years. Apple had actually filed for a patent for 2007.

However, the feedback from users was negative. The tech seemed flaky. Lenovo restored the traditional physical Fn keys for the third generation of Yoga (we'll have a review shortly).

«
Two key differences: first, Lenovo can't decide what APIs are included in Windows, so its keyboard couldn't truly extend the experience of Windows; second, Apple has a particularly loyal and eager customer group. Let's see what the response is when people actually have these new machines in their hands.
link to this extract
---
»And so we have competing strategies. Google would prefer everyone just support its RCS client, based on the GSMA's universal profile, and allow users on any carrier to utilize its features, and carriers like AT&T and T-Mobile would rather see the development of a negotiated "universal profile" that allows cross-compatibility of core features, but not necessarily for all features, just the ones the carriers can agree are important enough to need, but not that they'd maybe like to keep to themselves as "value-add" incentives for their subscribers to stay on the network. So, you could (and likely will) end up with a basic, universal RCS profile, but there's a very real possibility that business interests will gimp that universal profile with a more limited feature set. And let's not forget: the US's largest smartphone manufacturer by sales, Apple, has absolutely no reason to adopt RCS ever.

«
As one commenter points out, it's like the XKCD cartoon about standards: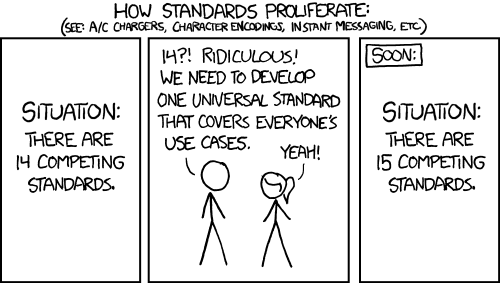 link to this extract
---
Duncan Campbell (who knows one end of a spy agency from another):
»Comey's letter to Congressional leaders, which started the whole debacle, explained that the agency could not officially look at or report on the emails without obtaining a specific new warrant. The letter implicitly acknowledged that the agency already had copies of all the mails on its computer systems (which would normally automatically have been indexed by forensic software), bringing the Clinton connection to light.

To find out how many emails on the laptop were relevant would have taken "seconds", according to e-discovery software industry experts. To then find out how many of those – if any – the FBI had not seen in its previous investigation would, at most, have taken "minutes." Standard methods are to take and match cryptographic hashes of email files (which proves the email files identical, if the hashes match), or to match metadata and then textual content.

The FBI's previous, year-long investigation into the private Clinton server finished in July, when director James B Comey reported that: "We cannot find a case that would support bringing criminal charges."

As only 110 of 30,490 official emails previously examined by the FBI were found to contain classified government information, the number of previously unseen mails that had strayed onto Weiner's laptop is likely to range from zero to a few tens.

«
---
»Magic Leap Inc., a secretive augmented reality startup with a massive funding warchest, lost its top marketing executive before the company has even brought its first product to market.

Brian Wallace, a veteran smartphone executive with previous stints at BlackBerry Ltd., Samsung Electronics Co. and Google, left Magic Leap in October, the company confirmed. The startup made waves when it brought Wallace on in April 2014, after closing a $50 million venture capital round.

Since then, Magic Leap has raised more than $1.3 billion in additional capital from tech giants such as Qualcomm Ventures, Alibaba Group Holding Ltd. and Alphabet Inc.'s Google. The latest investment round, in February, valued the company at $4.5 billion.

"I did what I set out to do, which was help Rony and the team create one of the most hotly anticipated technology companies in years," Wallace said in an interview, referring to Chief Executive Officer Rony Abovitz. "At this stage though, it's time for me to move on to other opportunities."

«
Magic Leap is either going to be the most incredible thing ever, or quite blah compared to all the other stuff already out there. I lean towards the latter.
link to this extract
---
»Samsung has one more fire to put out: The South Korean company announced on Friday that it was recalling 2.8m top-load washing machines, following reports of "impact injuries" that included a broken jaw.

The problem stems from unbalanced drums, which can separate from the washer and generate enough internal force to cause other parts of the washer to detach — and, in some cases, be launched out of the machine.

Samsung is also the subject of an August lawsuit from owners who said their machines "explode during normal use."

«
Only seems to be the US – but the machines have been sold in other countries too.
link to this extract
---
»"When we announced four years ago that we wanted to sell phones, people told us we were crazy. When we said we wanted to sell 100 million phones, they told us we were crazy," [chief executive of Huawei's consumer business group Richard] Yu said at a launch event in Munich.

Huawei on Thursday launched a new premium phone, which will sell for €699 apiece. A version developed with Porsche Design will cost €1,395.

The phone has a new artificial intelligence feature: it can learn about its user's habits and automatically put the most frequently used apps in easy reach.

Huawei was the world's third-largest smartphone maker in the third quarter with 33.6 million shipped devices, giving it a 9% market share, according to research firm Strategy Analytics.

Apple was still well ahead with 45.5 million devices, or a 12% market share. Samsung was the world leader with 75.3 million shipped devices and a market share of 20.1 percent.

"We are going to take them (Apple) step-by-step, innovation-by-innovation," Yu said, adding that he expected to improve Huawei's position along with technology shifts.

"There will be more opportunities. Artificial intelligence, virtual reality, augmented reality," he said. "It is like driving a car. At every curve or turn, there is an opportunity to overtake the competition."

«
Is it going to take customers from Apple, though, or from Samsung and other Android OEMs?
link to this extract
---
Errata, corrigenda and ai no corrida: none notified