A selection of 10 links (and one picture) for you. Proceed with caution. I'm @charlesarthur on Twitter.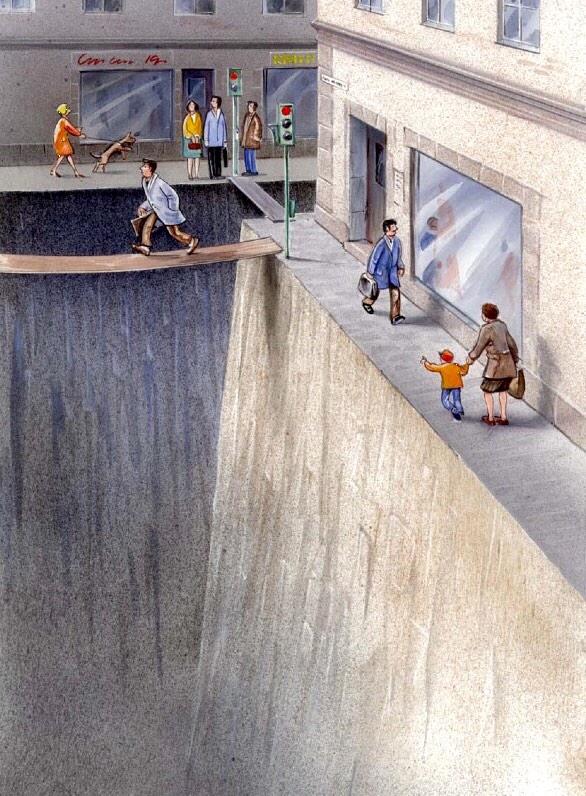 Artist unknown. (Let us know if you know.)
---
Samsung is hoping to make it easier for developers to build apps for its smart TV devices. As part of that effort, the consumer electronics giant has decided to enable developers to leverage the Tizen operating system to do so.
Good luck with that one. Not that anyone will notice either way.
---
James Kanter:
European antitrust regulators will hold discussions with the companies most concerned by Google's business practices before deepening existing investigations or resolving them, the new competition commissioner for the European Union said Tuesday.

Google has faced an increasing barrage of criticism in Europe, where there is widespread concern about how United States technological dominance could affect personal privacy and the ability of European rivals to compete effectively.

"I need to know what those most directly affected by the practices in question have to say," Margrethe Vestager, the new commissioner, said in a statement after a question about Google earlier in the day from a member of the European Parliament. "I will therefore need some time to decide on the next steps."
Vestager clearly isn't going to be rushed into anything; but given that her predecessor tried and failed at amelioration, she isn't likely to follow the same path.
---
Ryan Smith:
Working on analyzing various Apple SoCs over the years has become a process of delightful frustration. Apple's SoC development is consistently on the cutting edge, so it's always great to see something new, but Apple has also developed a love for curveballs. Coupled with their infamous secrecy and general lack of willingness to talk about the fine technical details of some of their products, it's easy to see how well Apple's SoCs perform but it is a lot harder to figure out why this is…

…as we have theorized and since checked with other sources, GFXBench 3.0's fillrate test is not bandwidth limited in the same way, at least not on Apple's most recent SoCs. Quite possibly due to the 4MB of SRAM that is A7/A8/A8X's L3 cache, this is a relatively "pure" test of pixel fillrate, meaning we can safely rule out any other effects.

With this in mind, normally Apple has a strong preference for wide-and-slow architectures in their GPUs. High clockspeeds require higher voltages, so going wide and staying with lower clockspeeds allows Apple to conserve power at the cost of some die space. This is the basic principle behind Cyclone and it has been the principle in Apple's GPU choices as well. Given this, one could reasonably argue that A8X was using an 8 cluster design, but even with this data we were not entirely sure.
GPUs are the new frontier for computing improvement. Equally, the niche-ness of this article is amazing.
---
Neil Cybart:
A curious thing happened to Apple last quarter: Seven years after launching the iPhone and four years after launching the iPad, Apple reported the best sales quarter ever for Mac. The belief that Apple would never sell as many Macs as it did during the first quarter of 2012 (known as "Peak Mac") was busted.  Tim Cook and Apple are as bullish as ever on Mac. I don't think it's a stretch to theorize that Mac's resilience is born from the phones and tablets that many assumed would make the Mac irrelevant. As mobile devices continue to invade our culture, the Mac may find an attractive computing niche thanks to its special use cases and design.
Cybart was until earlier this week better known on Twitter as @SammyWalrusIV; he was a Wall Street analyst (though not of Apple) who, via his Twitter persona, commented on Apple. Now he's starting a sideline – or mainline? – in Apple analysis. (You can subscribe on his page.)
Yet another amazing thing about Apple is that it can generate so many people who focus so intently on what it does – and are rewarded with readers.
---
Jess Zimmerman:
Today's big joke is tomorrow's irreplaceable utility – ask anyone who scoffed at Twitter as a mere engine for broadcasting what you ate for lunch. And of course, today's massive, secretive, world-changing project is tomorrow's Segway.

Consistently, the only people who end up being right about the future are the ones shouting warnings at us not to repeat the past – and who, of course, are roundly ignored. These Cassandras could have told you about Snapchats not being as secret as you thought, or hotel Wi-Fi being vulnerable to attack, or Facebook's troubling real-name policy. In fact, they were telling you, but you weren't listening.

And if you're AOL, you couldn't be bothered to listen because you were following a prophet of your own. He was offering an optimistic, if confusing, future. He wasn't a Cassandra. And, well, there are only two kinds.
---
The Firefox browser-maker is in talks with Google to extend an agreement that has funnelled millions of Mountain View dollars into the not-for-profit web idealist shop, The Reg has learned.
Hardly surprising – the three-year contract length and expiry date is known. I'm certain that no matter what price Mozilla demands (it presently gets about 90% of its revenue from Google kickbacks on searches), Google will pay it.
Why? Because the cost of losing 20% of the desktop to Microsoft search at once is far greater than the odd millions it shovels Mozilla's way. Remember, Google's voting shareholders are inside its boardroom. The rest are just along for the ride.
---
At least two top-10 Yahoo shareholders are so unhappy with Chief Executive Marissa Mayer's turnaround efforts that they are making a direct plea to AOL CEO Tim Armstrong to explore a merger and run the combined company.

Their move follows an activist campaign by hedge fund Starboard Value LP, which is pushing Yahoo to consider a deal with AOL and unlock Yahoo's valuable stakes in Asian Web companies.

Armstrong has been receptive to these Yahoo shareholders and acknowledged the potential benefits of a deal, the Yahoo investors said.

But he has downplayed the possibility of a transaction, according to the investors and two sources close to AOL. There are no talks between the two companies and Armstrong has indicated he would only consider a friendly deal, the investors said.
This is slightly reminiscent of "two bald men fighting over a comb while falling out of a plane with only one parachute". Activist investors are terrible judges of which mergers will work, generally.
And yet… AOL and Yahoo are both ad-focussed, and if they could make the merger work it could be effective. Pity that this is a merger that could have worked in 2004, before mobile. Now? Facebook and Twitter are eating both companies' lunches.
---
The Tegra K1 has been touted by Nvidia to be a "desktop-class" SoC, so powerful that it's only meant for tablets (though nothing is stopping a manufacturer from using it on a phone.) However, Samsung is now alleging that the Tegra K1 is not as powerful as those benchmark scores indicate, and has sued Nvidia for misleading consumers in benchmark figures that compare the SHIELD Tablet with the Galaxy Note 4.

The suit is, in fact, a countersuit against Nvidia's lawsuit against Samsung earlier this year that said the latter had infringed on some of Nvidia's graphics-related patents in its mobile chips (which has caused the US ITC to investigate some Samsung devices.) Samsung's lawsuit against the popular GPU manufacturer alleges that Nvidia also used six Samsung patents without licensing them; Samsung is also suing Velocity Micro, a company that uses Nvidia's graphics cards and hence is being accused of using two of the Korean manufacturers.
1) I'm shocked, shocked that people might seek ways to fiddle benchmarks (2) does anyone with any sense actually care about benchmarks on mobile processors, when some companies tie boat anchors around them by skinning Android?
---
The Trojan tricks its victims by requesting permission to send premium SMS messages in exchange for downloaded content.

This tactic has been seen since malware started appearing on Android devices.  If you visit the developer's website from the link provided on the Google Play page, it takes you to a page with two banners and a couple of links.
Remember when Trojan diallers were a thing during the dialup internet days? They were viruses that silently changed the number your modem dialled (ask your parents, kids, and they'll sing it to you) to one in a far-off land. People lost hundreds of pounds, yet British Telecom wouldn't do anything. This is much the same model.
Trojan diallers died when people moved to broadband. I wonder if Trojan SMS is a similar early-stage thing.
---
Jim Kovach:
Part of the reason why scrappy startups like Chinese smartphone makers OnePlus and Xiaomi are able sell their phones at rock-bottom prices and eat into Samsung's sales is because they spend little on marketing and sell directly to consumers through the web. 

These companies rely mostly on social media and word of mouth to market their products. And it works. For example, Xiaomi sells more phones in China than both Apple and Samsung. OnePlus, which has only sold its smartphone in limited preorders, has sold at least 500,000 phones, with thousands clamoring for an opportunity to buy more.

But it's probably not a model Samsung will be able to follow any time soon.

Carl Pei, a cofounder at OnePlus and the company's global director, said Samsung's marketing costs and protection of its margins make that nearly impossible.
Selling phones through flash sales and online-only might not scale very well; and it doesn't satisfy the "walk into a store and buy" desire. Yet it looks like a promising model. (Of note: Apple offers online-only, own-store and carrier store models.)