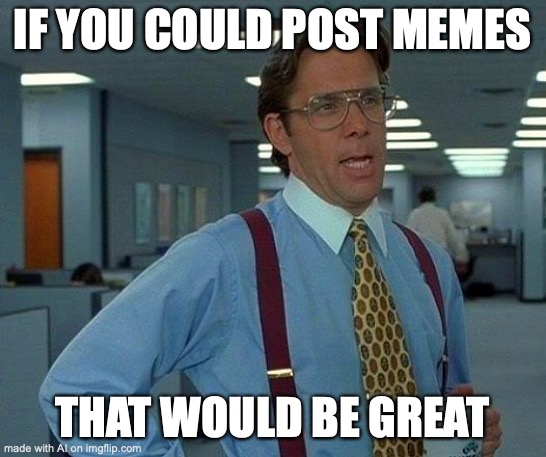 A machine learning system wrote this caption. So I guess that makes it copyright-free? (Source: Imgflip.)
You can sign up to receive each day's Start Up post by email. You'll need to click a confirmation link, so no spam.
A selection of 13 links for you. Save some for the weekend, then. I'm @charlesarthur on Twitter. Observations and links welcome.
Brandy Zadrozny and Ben Collins:
»

In November 2017, a small-time YouTube video creator and two moderators of the 4chan website, one of the most extreme message boards on the internet, banded together and plucked out of obscurity an anonymous and cryptic post from the many conspiracy theories that populated the website's message board.

Over the next several months, they would create videos, a Reddit community, a business and an entire mythology based off the 4chan posts of "Q," the pseudonym of a person claiming to be a high-ranking military officer. The theory they espoused would become Qanon, and it would eventually make its way from those message boards to national media stories and the rallies of President Donald Trump.

Now, the people behind that effort are at the center of a fractious debate among conspiracy enthusiasts, some of whom believe the three people who first popularized the Qanon theory are promoting it in order to make a living. Others suggest that these original followers actually wrote Q's mysterious posts…

…Part of the Qanon appeal lies in its game-like quality. Followers wait for clues left by "Q" on the message board. When the clues appear, believers dissect the riddle-like posts alongside Trump's speeches and tweets and news articles in an effort to validate the main narrative that Trump is winning a war against evil.

«
Started on 4chan, expanded to YouTube, then Reddit (they were "able to tap into a larger audience of conspiracy theorists"), then Facebook ("where it found a new, older audience") and then the fabulously toxic 8chan, and then Discord.
One of those involved was identified because he logged in to the wrong account. It's impossible to live that sort of internet double life forever. The eternal downfall of scams.
unique link to this extract
---
Leslie Hook and Hannah Kuchler:
»

The US government funds more than half of healthcare spending — but it does not run the hospital system. Instead, it supplies public insurance in the form of Medicare, for seniors, and Medicaid, for the poorest, paying through a fragmented network of healthcare providers. To get by, hospitals must also have enough money coming in from commercial insurers or beg for extra subsidies.

Many are on the brink. More than a hundred have closed in the past decade, and a report last month from consultancy BCG estimated that 20% were at "near-term risk of insolvency" before the pandemic. They now think the figure is between 30-40%.

The high number of uninsured people in the US compounds the challenges of responding to coronavirus. At least 27 million Americans lack any health insurance, and that figure is set to rise as millions more lose their jobs. Without insurance, patients risk getting saddled with high bills from emergency room visits that they cannot pay, forcing bad debt on to the hospitals.

Even though the US spends trillions of dollars on healthcare, much of that is wasted. The funding gets used up by bureaucrats that have to code and bill every action a doctor takes, by doctors and hospital administrators paid far more than their European counterparts and by the soaring cost of drugs. A study last year in The Journal of the American Medical Association found at least $760bn was wasted in unnecessary health spending — more than the US spends on primary and secondary education.

Poorer hospitals that cater to low-income urban communities, or rural areas where population is declining, are dependent on government insurance. They say the payments from Medicaid do not cover their costs as the price of staff, equipment and drugs rises.

«
A lot of those commenting in the story say they don't know if this will be what the US healthcare system finally needs so that it will get fixed, or if it's just going to continue getting worse and worse. I'd like to be optimistic, but US healthcare has so many inbuilt biases towards awfulness – and most of them are making the people with power rich.
unique link to this extract
---
Tasneem Akolawala:
»

TikTok, a popular short-video app, has achieved 2 billion downloads via Google Play Store and App Store. According to app intelligence firm Sensor Tower, the first quarter of 2020 has been the best so far for TikTok, as it managed to accumulate 315 million installs. While businesses continue to suffer and adjust to the new norms of work from home, TikTok has witnessed never-before-seen downloads, engagement, and revenue. This massive growth was accelerated by the COVID-19 crisis as it has drawn more people to their mobile devices and use social media as one of the means to connect with people.

The social giant has amassed 2 billion downloads, just five months after it surpassed 1.5 billion downloads. This means it has added 500 million new downloads in this short period. Sensor Tower notes that India has been the biggest driver for TikTok installs, and out of the 2 billion downloads – 611 million are from this country. This amounts to 30.3% of the total downloads. China comes in second, with 9.7% (196.6 million) of total downloads, and the US comes in third with 165 million downloads – an 8.2% share.

«
That number for India is absolutely bonkers. Though they're not spending any money on it (that's being done by China, the US and UK.) I'd love to know how the activity per country breaks down.
unique link to this extract
---
Tom Warren:
»

The Verge noticed the company had quietly edited a blog post making the claim earlier this month. Zoom originally stated it had "more than 300 million daily users" and that "more than 300 million people around the world are using Zoom during this challenging time." Zoom later deleted these references from the original blog post, and now claims "300 million daily Zoom meeting participants."

The difference between a daily active user (DAU) and "meeting participant" is significant. Daily meeting participants can be counted multiple times: if you have five Zoom meetings in a day then you're counted five times. A DAU is counted once per day, and is commonly used by companies to measure service usage. Only counting meeting participants is an easy, somewhat misleading, way to make your platform usage seem larger than it is.

«
Upshot: we don't actually know how many daily users Zoom has.
unique link to this extract
---
Jemima Kelly:
»

What in heaven's name is that, we hear you ask? Well it's a whirl-chart (totally a thing) showing the "Rates of change in affected countries", of course, which we stumbled across via Emma Wager on Twitter.

The chart appears to have been drawn by Danny Dorling, who is the Halford Mackinder Professor of Geography at the University of Oxford, no less!

It was posted on his website under the headline "Three charts that show where the coronavirus death rate is heading", so one would kind of hope to have a sense of where the coronavirus death rate is heading after staring at it for a while. We didn't experience this.

«
But don't worry, he explains it! Well, as far as it's explicable.
---
»

We're introducing Jukebox, a neural net that generates music, including rudimentary singing, as raw audio in a variety of genres and artist styles. We're releasing the model weights and code, along with a tool to explore the generated samples.

«
The country music sample is very impressive; there are also more samples, and the one in the style of Prince is quite near. It's pretty close to average. But you know it's going to get better too.
unique link to this extract
---
»

AI Memes by Imgflip, uncensored

Click a meme to generate a new caption

«
The Verge has played with it longer than I did. You can imagine that someone with a pro account and feeding a few well-chosen words in could create something which would eventually provoke quite the reaction.
unique link to this extract
---
Jon Porter:
»

The US Patent and Trademark Office (USPTO) has ruled that artificial intelligence systems cannot be credited as an inventor in a patent, the agency announced earlier this week. The decision came in response to two patents — one for a food container and the other for a flashing light — that were created by an AI system called DABUS.

Among the USPTO's arguments is the fact that US patent law repeatedly refers to inventors using humanlike terms such as "whoever" and pronouns like "himself" and "herself." The group behind the applications had argued that the law's references to an inventor as an "individual" could be applied to a machine, but the USPTO said this interpretation was too broad. "Under current law, only natural persons may be named as an inventor in a patent application," the agency concluded.

The patents were submitted last year by the Artificial Inventor Project. Along with the patents submitted to the USPTO, the team also submitted documents to the UK's Intellectual Property Office (IPO) and the European Patent Office (EPO). The IPO and EPO have already ruled that DABUS, which was created by AI researcher Stephen Thaler, cannot be listed as an inventor based on similar legal interpretations. The USPTO asked the public for opinions on the topic last November.

«
So my interpretation of this is that you can claim to have invented something that an AI has devised. Such as music? Or memes?
unique link to this extract
---
Jeff Bezos's wealth is $139bn. Yes, but what does that look like compared to the cost of cancer treatment for everyone in the US for a year, or how much you'll probably earn in your life, or the annual pay of an Amazon warehouse worker. It's stunning.
unique link to this extract
---
Jon Sindreu:
»

Some in the industry have warned since the start of this crisis that it could take more than two years to get capacity back to 2019 levels, due to a combination of health restrictions, fear of flying and corporate culture embracing videoconferences. This week's announcements offer confirmation that there is no turning back.

Order cancellations have only been modest so far, because they are expensive for airlines. But the watershed moment for production rates is likely still months away. Consensus forecasts compiled by data provider FactSet show that the combined revenues of Boeing and Airbus aren't expected to top the 2018 level—before the 737 MAX crisis hammered the US manufacturer—until 2023. Sales that year would still be 7% lower than what analysts expected for 2020 a few months ago.

That is a lost five years for the aerospace industry, and estimates might still have to catch up with the news.

For engine manufacturers and companies that make money repairing aircraft, history suggests that the trough will be even deeper. General Electric said Wednesday that it would need to cut $2bn in costs after reporting a whopping 40% drop in profits for its aviation division.

While governments have stepped in to bail out some troubled airlines, some are likely to disappear. Virgin Australia has already filed for administration, and its founder and part-owner Richard Branson has so far failed to secure aid for his other carrier, UK-based Virgin Atlantic. In the US, airlines are required to retain their workforce through September as part of the aid package provided by Washington, but they are already offering voluntary exit schemes. They will surely start dismissing workers as soon as they are allowed to.

Other industries still have hope of returning to some level of normalcy within the foreseeable future. Aviation, though, will be smaller and less profitable for years to come.

«
See also this discussion at The Conversation between three academics about where aviation is going.
unique link to this extract
---
Jon Gluyas is a professor of geoenergy at Durham University:
»

On April 1, scientists at the University of Arizona College of Medicine reported on the invention of a new breathing device that has potential to help patients suffering with lung damage to recover from COVID-19 using a mix of oxygen and helium gases called heliox.

Heliox has about the same viscosity as normal air but lower density, and the way it flows requires much less energy for the lungs to take in the oxygen it carries than is the case for air. The gas is non-toxic and non-reactive so is already beginning to be used to help people with asthma and a range of other conditions in which patients have breathing difficulties.

About 22% of all helium produced already goes to medical uses, and breathing mixtures account for 2%-3%. Should the application of heliox become widespread, then demand would grow dramatically.

But helium is already in short supply globally. And, since 87% of helium supplies comes directly from petroleum production the oil decline could put significant further strain on the market.

«
I feel like this wins some sort of Overspill trifecta: oil, helium and coronavirus all wrapped up with a neat little bow.
unique link to this extract
---
Wayne Ma:
»

While plenty of ambitious engineers and industrial designers want to be the next Jony Ive—Apple's former chief design officer, who famously shaped its iconic products—few want to be the next [Mike] Janicek [now 61, who has done hardware work for Apple, on and off, since 1984]. He's one of a vanishing breed of engineers with expertise in the less glamorous aspects of manufacturing such as surface finishing, metalworking and machine tooling.

"This is an industrywide problem, not just for Apple. There aren't that many really experienced manufacturing engineers in the US," Janicek said in a series of interviews with The Information conducted by phone from Taiwan, where he now consults for a large Fortune 500 company. "Kids don't grow up working on cars or fixing stuff anymore. Instead, if they need an answer, they'll look it up on Google."

Apple's need for deep manufacturing knowledge—and its reliance on older experts like Janicek—highlights one of the challenges that face any effort to bring manufacturing back to the US. The gradual disappearance of this know-how is a decades-long trend that has become more pronounced as Facebook, Google, Microsoft and Amazon have sought to emulate Apple's success by hiring from a shrinking pool of American engineers with such backgrounds. 

There's now an added urgency to seek out and hire American manufacturing experts. In recent years, political pressure on companies like Apple to bring factory jobs home has increased. The economic downturn from the coronavirus could highlight the issue even more. But America's shortage of manufacturing skills—the result of decades of outsourcing production overseas, starting in the 1980s—is a barrier that Cook has mentioned over the years.

"In the US, you could have a meeting of tooling engineers, and I'm not sure you could fill the room," Cook said at a conference in China in 2017. "In China, you could fill multiple football fields."

«
"It's time to build", eh? Though you also need the space to put the factories.
unique link to this extract
---
»

Global smartphone production for 1Q20 fell by 10% YoY to around 280 million units, the lowest in five years, due to pandemic-induced disruptions across the supply chain, such as delayed work resumption and labor/material shortages, which caused low factory capacity utilization rates. Turning to 2Q20, there are now improvements to both the supply chain and the work resumption statuses of manufacturing and assembly lines, but the pandemic is now making its effects felt on the demand side of the smartphone market by tanking major economies worldwide. Global production for 2Q20 is now estimated to register another YoY drop of 16.5% to 287 million units, the largest decline on record for a given quarter. TrendForce forecasts total yearly production volume of 1.24 billion units, an 11.3% decrease YoY.

«
Samsung was under pressure anyway from Chinese companies in southeast Asia and India; Trendforce reckons its production will fall nearly 11% next quarter. Unclear for Huawei and Apple. Quite how the demand side is going to work out is anyone's guess.
unique link to this extract
---
Errata, corrigenda and ai no corrida: none notified